My cat got out

United States
June 12, 2007 3:03pm CST
I use to have 3 cats now I only have 2. Yesterday one of my cats slipped through the door as I was going outside. This is the cat that I took in as a stray 4years ago. I thought she would come back last night but no she didnt. So I got up early this morning and went looking nothing. Im really upset I think something happened to her. We do have some wild cats around here and Im hoping they wont hurt her. So please say a prayer for my little Blackie and tell her to come home to me.
10 responses

• United States
12 Jun 07
Oh, of course TerryZ I shall pray that Blackie comes back to you, and I hope you keep us up-dated about finding her!!!

• United States
12 Jun 07
My friends cat Gabriel got loose a while back. Took almost a week for him to come home, so there is hope the lil stray will show back up on your doorstep. Keep up hope....

• United Kingdom
13 Jun 07
Terry I really hope that she is back by now Has she been done I guess she might just be enjoying the freedom and she will be back You are in my thoughts and as I am fighting my way through here I am hoping I will come to a Discussion from you saying that she is back Love and a big Hug to you

• Philippines
14 Jun 07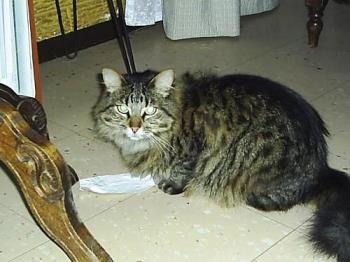 If nobody hurt your cat, she will come back. Cats can go back to their houses even if they are brought far. They have the senses to go back but if she met an accident like being overrun by vehicles, etc (I hope not) then better get some other ones.




• Pakistan
19 Jun 07
I hope and pray that your cat will come back. Dont worry it will cause you loved it.

• United States
21 Aug 07
I know its been a while since you posted this, but in case you ever have this problem again, here's an article i wrote on what helped me find my cat. Did you find yor precious Blackie? http://www.mylot.com/w/discussions/1250420.aspx

• Philippines
2 Jul 07
Hello Terryz, don't worry. I am sure she will return. Maybe not now, but later on. I have experienced also like that situation. All I thought my cat was lost, but it is not. Just be patient, do not lose hope. Is she your favorite cat among the two? Take care. Best regards,