Garlic and dogs

United States
4 responses

• Philippines
14 Jun 07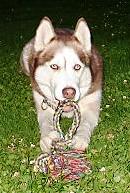 Accordingly, garlic is a good antibiotic and it's not poison so there's nothing wrong if dogs eat it for even people do. What I don't know if garlic eaten by dogs can keep off ticks and fleas from dogs. There's nothing wrong anyway if you let your dog eat some cloves of garlic.


• United States
14 Jun 07
I have heard of feeding your dogs garlic to keep the fleas and ticks off of them, but I have never tried it. I use one of the once a month flea and tick drops because we used to live in an area that was highly infested with ticks.

• United States
13 Jun 07
One day while I was preparing our evening meal I accidentally dropped a couple of cloves of garlic on the floor. Before I could pick them up my one year old German Shepard mix had already scarfed them down. I was so worried about her getting sick that I stayed up all night to make sure that she would be alright. It never did bother her, in fact she has eaten garlic cloves a few more times since the first incident. This isn't a guarantee that your dog won't get sick but I have never heard of garlic making a dog sick before.