feel sad? ... never give enough to children?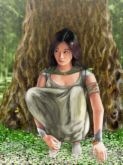 United States
June 12, 2007 5:04pm CST
I felt rather guilty or sad today when I talk to some native friends over here in California. My sons are in the Public Elementary School which we do not have to pay a single cents since we move from Singapore to US. I have came across numerous of them told me that the private school are much better in academic than the public school. I felt so worried that I do not give enough to my son when I start comparing what they have/do in our hometown vs US. Back in our hometown, they went to school, learn swimming, gymnastic, Kumon, Speech/Drama and Taekwondo which are all their favorite. Here, the tuition fee is so high for all this Extra activities. Moreover, my husband is the sole bread-winner of the family. Previously, both of us are working before I came to US as a dependent whereby I am not allowed to work under the law. I felt so guilty that they have to give up all their activities. In order to make them feel they are not neglected with their previous activities. I start home-schooling after their classes. I gave them Math, English and Chinese tuition, role-play and teach them swimming myself. As for trips to Zoo, birdpark, resorts, farm and trekking they use to do in Singapore. I unable to provide them this as I do not drive and the public transport is limited and costly. Thus, I substitute with park with playground. We start soccer game, volleyball and simple gymnastic guided by me. I did asked them do they feel sad that they do not have the luxury like what they once had. They told me is ok, mom is the same as coach/instructor. I have a mix feeling.... happy and sad. Happy is that they are sweet and understanding. Sad is I'm unable to work and provide what they used to have. Do you ever have such feeling?
3 responses

• Singapore
13 Jun 07
Hi maehan... Thanks for adding me as a friend. It's good to see a Singaporean around here too. Actually, I was from Taiwan before. I only came to Singapore later. I've also spent some time in the US because my parents were always travelling and my father had his own business. I think that the US is a place only for those with the money. Compared to SG, the cost of living is quite high. And frankly the public education standards are not very good, compared to other countries. So it's difficult if you can't afford home-schooling for your kids, or to enrol them in private schools, which cost very high. Have you thought of home tuition? You can choose a tutor to guide them in some subjects and not all, so you still save some money. At least it's better than trying to do everything yourself coz I'm sure it must take up a lot of your time too. Have you also thought about offering private services? Did you know when my family was living in Taiwan, my mom used to bake and sell cakes to her neighbours for money? She couldn't go out to work coz she had to take care of me and my sister. My mom also helped sew/tailor friends' and neighbours' clothes to make extra money too. Why don't you consider doing stuff like that? You can also make many friends this way. :)

• United States
13 Jun 07
Hello Juline, I am so happy too to see Singaporean on the web. Your mom are superb! You are great too as your adaptibility are marvelous. I had becoming paranoid..... ha ha ha after I stay in US. I give extra lesson to my sons after his school. They do worried about unable to catch if they return. So, we work a year ahead of their current grade. They misses their chinese teacher who is from Taiwan too! I have make some friends from Taiwan, Hong Kong and China. Quite of them are Tai tai, cool har. In an event if they need to go for facial/ manicure, they will ask me to help to care of their children for a couple of hour. Since I am at home, so I give classes to their children as well. As I holding a dependent visas, I am not allow to earn $$$ in US. So, I will continue to work when I return to Singapore in a year or two. Thank you for your response and enjoy while you are with your family.

• United States
13 Jun 07
I bet they're really happy to be spending so much time with you, and I am IMPRESSED that you can teach them so many things.

• United States
12 Jun 07
I'd never considered that some people immigrating to the US may be giving up luxuries like those. I think for those of us who have never been out of the country, we think all immigrants are leaving horrible situations to come to our country. It sounds like you give your children all of your time. IMO that's as important or more important than giving them stuff or extra activities. Perhaps you can find other at home moms who drive to do trips to the places you can't easily get to?