Yes, there is a Chef Boyardee.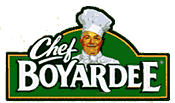 United States
June 12, 2007 5:16pm CST
Although his name is not spelled that way. Hector Boiardi, an Italian immigrant, came to the United States in 1914 when he was only 17. Upon his arrival, he immediately got a job as a chef at New York's Plaza Hotel, where his brother worked as a waiter. After moving to Cleveland, he perfected his spaghetti and meatball recipe in 1929. His customers kept asking for bottles of his pasta sauce so they could have it at home, and he obliged. He then added cheeses and pasta to the sauce. The results were so popular that he started to sell the products in area stores, and later in stores outside the area. Boiardi remained an advisor in the canned pasta business until his death at age 87 in 1985. And yes, that is Hector's picture on the label. http://www.coolquiz.com/trivia/names/names.asp?name=boyardee
2 responses

• United States
14 Jun 07
That is cool- I always wondered where Chef Boyardee came from- I thought it was just some company name for pasta in a can. I still at the age of 34- eat Beefaroni -- People at work laugh at me- It's for kids and it's gross- I don't think so! I also like Franco Americans Spaghettio's and meatballs! lol

• United States
12 Jun 07
I have heard about Chef Boiardi. There have been brands like that have gone from local to nationwide notice. Ben and Jerry's is one, Francesco Rinaldi sauces are another. Even Heinz is one many may not realize is a family name. They start with one or 2 local products. Either in a restaurant or a local store. Someone notices and they start to expand, and seemingly overnight they are a household name nationwide.

• United States
12 Jun 07
Its pretty cool thought when you realize how they started though.