heeeeeeeelp! i've lost my turtle:(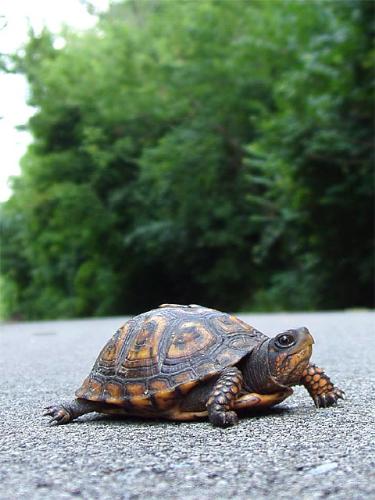 June 12, 2007 6:43pm CST
this morning the little turtle was in his aquarium, all fine, all happy (i think) and in the afternoon when i came home... puf! he was gone. i must add that his aquarium is very high... and no one else entered before me and my sister. does anyone know where a turtle would hide? and WHY???:((
7 responses

• United States
13 Jun 07
that is SO bizarre! I don't see any way of a turtle getting out of a tank, especially a big one! IS there anything in the tank he could have climbed up, anything thick (turtles cant climb I know but just going with all the possibilities). Do you have any other pets? I'm hoping a dog or a cat couldn't get him out of his tank. And I really don't want to say someone came into your house just to steal a turtle! lol Turtles like tight, dark spaces. SO check any spaces you can think of...behind dressers, under beds, behind washer/dryer....EVERYWHERE! lol.

•
13 Jun 07
well... i have a dog, also... and the tank isn't that big. and i sure hope milo didn;t it cel (milo - dog ; cel -turtle)... :( i looked around everywhere i could... i'm waiting for my dad to help me move the heavy furniture :(

• United States
17 Jun 07
Aww I hope your doggy didn't kill him! Is your dog a large breed? Regardless, I think you would have seen some evidecne if your dog did get hold of him; broken shell, blood, etc. If you haven't found any of those then there is still a large chance he is in hiding right now, well and alive! :)


•
1 Jul 07
Nope :( It is still missing and I doubt it is still alive :( Oh well... life is just like this :(

• United States
13 Jun 07
I am sorry to hear about your turtle. What kind of dog do you have? I don't think the dog would harm your turtle so what I am thinking is maybe the dog took the turtle out to play! I hope you find your turtle in your home. He's probably hiding from your dog in a corner somewhere. Good luck and please let us know when you find him.

• Romania
13 Jun 07
Ok... so he has about 24 hours advance, given a speed of 10 meters in one hour... I'll suggest a search in a area of 500 meters... so close all roads, all streets within these area, search all hiding places and every bushes...:P I hope you'll find it... it seems very important so I'll keep my fingers cross. Good luck:) Don't know anything about turtles trough :(

•
13 Jun 07
don;t make fun of this! the turtle is important :(

• Philippines
28 Aug 07
Dear Liana_pescarus Sorry to hear that your turtle Cel was lost. Although your message is 3 months ago. I am just writing for those who want to retrive a lost turtle. I have a similar experience but I successfully retrived my lost turtle named Jigsaw. Jigsaw is a Red Eared Slider, his name was derived from having 14 scutes instead of the ordinary 13 scutes. Anyway these are some of the things I did in order to retrive Jigsaw:1. Provide a basking spot on the floor. Complete with flat rocks and source of heat. I used a 10 Watts incandecent bulb. Turtles loves to bask in oder to increase its temperature and to be active. Turtles are cold blooded animals. 2. Provide a container with water and with live swimming guppies as bait. Turtles are very sensitive to vibration although without ears it can easily detect the source of vibration. The scent of the guppies and the vibration of the swimming guppies provide a good attraction. Provide a ramp for the turtle to climb into the container. 3.Prevent excessive noise. Do not turn on your stereo or radio. Excessive vibration will not attract the turtle but instead it will scare it off. 4.Do not rearrage your room for the time being. Turtles may get misoriented before it can recognize the arrangement. It may take several days before a newly bought turtle from a pet shop will react and become active because of this reason. 5.Provide vegetables leaves near the water container with guppies because turtles also need some greens and would munch a couple or two at the leaves. Bite marks is indicative that the turtle is coming back to this site before hiding again in a secluded area. 6. Prevent your dog or other pets to access the room or area for the time being. Although the turtle is protected by its shell, young turtles have soft shells and adult turtles though having hard shell, too much or vigorous shaking might kill the turtle and the dog love to shake things vigorously. 7. If your room is air conditioned, turn on the aircon once in while but keep the basking lamp on so that the turtle will be forced to seek an area slightly hotter compared to the other areas. 8. Listen carefully for the noise the turtle is making. Turtles love to use their claws for digging or trying to find something to eat. Turtles usually hunt using this technique. 9. And lastly have a lot of patience. I was able to retrive Jigsaw after 4 months. Although he was very skinny, he was able to survive the ordeal. Turtles can manage to live for a couple of days or months without turtle feeds and just manage to eat insects for its nutrition. Hope that these tips will help you in retriving Cel. Ferritic

• United States
14 Jun 07
I have a turtle too. She is a red eared slider. She got out of her tank before...no lie. I thought I had lost my mind. I couldn't believe a turtle could escape like that but she has a ramp in her tank. She had crawled out and fell onto a bunch of pillows and burried herself in them. It took almost an hour to find her. When my husband and I clean her tank, she crawls out of the laundry baskets we put her in. People completely underestimate turtles. Don't worry too much...just look under anything it could have burrowed under.:)

• Indonesia
13 Jun 07
ooh..very sorry to hear that..have u checked to the corners of ur room?maybe under bed?is there any hole that he can enter?