Another home found!

United States
June 12, 2007 10:11pm CST
Well, the last application was good, the people finished it up, passed the back ground check and paid their fee! So, E.B. is going to a new home on July 5th! That's 4 down and 5 to go. The roomie pulled the boy out of the adoption pool, she just likes him too much! I have to admit I'm pretty fond of him too. YIPPEEE!!!!! That'll bring our numbers down to 24!
10 responses

• United States
13 Jun 07
Have you had any luck with Petfinder.com or Pet-Ark.com to help with adoptions--at Petfinder you can set up a website to show off the kitties you hope to adopt out--problem is what is so discouraging is that there are SO MANY people trying to get pets adopted out..When I was trying to get rescuers to take in the excess cats we had, since my mom created a real problem (she had hoarder personality) don't ask how many rescuers I contacted..I was hoping if each place just took one cat each that would have been a help--some rescuers prefered to remain on the anonymous side, cause if they didn't they'd get the "dumpers"--ones that just literally leave unwanted pets at their doorstep--

• United States
13 Jun 07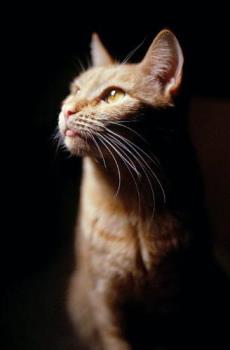 I was looking at a lot of the kitties on the site...I'll take them all..LOL---Yikes I would love to have more than just two...even one or two more..but would be in a lot of trouble with my darling landlord--I noticed a lot of orange tabbies..love those kind..my one cat Taffy was a real beauty..she's now in the land of Bast many years ago


• Ireland
13 Jun 07
Only 24, huh? You are a saint! That is great news that they passed their home check. You guys really do great work, you know that, don't you?

• Turkey
13 Jun 07
Congrats. on finding a home for one of your kitties, lets hope the others will soon find new owners too.

• United States
13 Jun 07
WTG!!! Glad to hear another one of your furry felines is going to a forever home. Hard to let them go thou.

• Canada
21 Jun 07
Sounds like you have your hands full , GOOD JOB ...

• United States
15 Jun 07
That is terrific that E.B. is finally getting a home. It's about time, isn't it? And how cute that your roomie got attached to the boy. I love it. I'm keeping my fingers crossed that you are able to find good homes for the others soon.

•
14 Jun 07
Congratulations on finding a home for E.B. I still can't imagine have 24 cats though. I have 2 and that is enough for me. I love them but in my apartment 24 would not work. :)

• United States
13 Jun 07
You sound like me, we are currently trying to find homes for 8 puppies, we are down to 6 puppies now, it is so hard to find good homes and everyone gets caught up in the how cute they are and then you say let me show you the mother and they say how big she is, which she is not really big, she is just a lab and they are big dogs. I am hoping soon our lab puppy population goes down soon.