FuNNy NewsPaPeR CLiPPinGs!! lol lol!!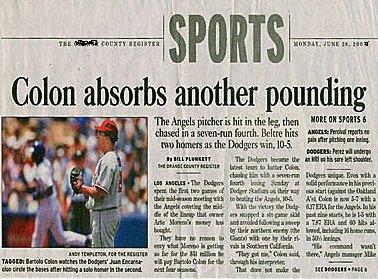 United States
June 12, 2007 11:04pm CST
So i was here tonight reading threw some old papers i had wrapped around glasses i packed.,,and I see the most funniest thing ever,,Look atthe Headlines on the paper..!hahaha!! soo darn funnY!! I watch Jay leno and Dave Lettermen..and I see these on the show..never one here! Soo..here is my qustions..Do you have any funny clipping or headlines..or advertisements for that matter in yours? maybe..a funny classifed or personal online u find soo humorous?? well I would love for you to share! and pics if u have any! Thanks everyone and lets have some fun!!!
1 response

•
13 Jun 07
Lol.. I remember reading the local evening post here in Nottingham. (united kingdom) and in the same edition there was one "a" mistake. which read something along the lines of "tranny ran over by local taxi" (should of been granny) Lastly something you wouldn't want to put. (similar to yours) one of the local football teams had a player Nigel F*ck*r.. He scored 3 goals which is an hatrick and the head was "Three goals save forest! Fu*ke*r has all the balls" not as funny being ten years old you don't no better! hehe ~Joey

• United States
13 Jun 07
hahah!! thats soo funny!! And omg! that poor poor man! having to have that name his whole life!! lol..and omgoodness!! those poor children that heard it over and over again!! lol..thank u for sharing!And I just wanted to say..I think Nottingham is just the coolest name to have as a City!! take care!

•
13 Jun 07
Hehe.. No Table Tenis In Gham (No"tt"in"gham) ^ A strange story of how we supposedly came about the name Nottingham. Your welcome cloud kicker. (I wished my parents kept the paper) lol ~Joey