How often must a dog be bathed?

Philippines
June 13, 2007 1:51am CST
I want my dog to be clean and smell good most of the time. I want to bathe her as many times in the week as possible (but not more than twice in a day. However, some people told me that dogs mustn't be bathed every week since it is not good for their health because their system is not like ours. I've been trying to bathe my dog often and so far, I haven't observed anything that will affect her health. Do you think there is any truth to this matter?
7 responses

• United States
14 Jun 07
Here is an article on dog bathing by Teresa James...... Time for a Dog Bath? Dog Bathing Tips for You and Your Dog by Teresa James Cleanliness and proper grooming can be very important to the continued good health of our beloved pets. But bathing our puppy or adult dog can often prove to be a challenge. There are many questions, myths and opinions floating around when discussing the best care for different dog types and temperaments. Check out these dog bathing tips to get some great ideas so you'll be prepared for your next dog bath and grooming session. How often should you bath your dog? How often your pet will need a dog bath will depend on the breed and what type of activities the dog is involved in. It's best to bathe your dog only when your dog is really dirty. Just use your nose — that tell tale doggy smell will let you know it's time for a bath. If a dog is bathed too often the skin will be stripped of its natural, protective oils. This will result in dry itchy skin, which will cause your dog to scratch, further irritating the already sensitive skin. If you need to bathe your dog more frequently make sure to use a pet shampoo that will also moisturize your dog's skin. You may also want to follow up with an after bath pet coat conditioner specifically formulated for dry skin. Where's the best place to bath your dog? In warm weather you can bathe your dog outside. Pick a place that will not turn to mud when it gets wet. It's a good idea a have a washtub large enough for your dog to stand up in and fill it with a few inches of water. Water straight from a garden hose may start off warm, but usually gets cold very fast. If your dog starts to resist and shiver, as the water gets colder, you may want to consider another option. Many pet owners have overcome this problem by purchasing a raised dog bath. This convenient, back-saving dog bath is often used with a water temperature mixer valve assembly that completely solves this problem. With the proper equipment set up you'll be able to save your back and control the water temperature of your dog's bath. Some temperature mixer valve assemblies hook up to your existing washing machine water supply. At bath time just connect an ordinary garden hose to the valve assembly and run it outside to the bathing area. This convenient type of back-saving dog bath can even be used for bathing your dog inside. If you choose to bathe your dog inside, regulating the water temperature shouldn't be a problem. But deciding where to bathe your dog might be. Small dogs and puppies can usually be bathed easily in a sink or a washtub. For bigger dogs you will need something bigger like a bathtub or a large shower stall. And of course, the bigger your dog is the bigger the potential hassles. Are you tired of chasing and wrestling with your dog at bath time? Many dog owners solve this problem by purchasing a raised dog bath. An ergonomically designed dog grooming bathing tub elevates your dog to a level that's comfortable for you and keeps your dog securely contained, taking the hassle out of washing your dog. You'll get the job done in half the time, save your back and stay dryer. The raised dog bath that is available in most pet shops and online stores will also save your dog stress at bath time. No more slipping and sliding. Your dog will really feel secure standing on the padded non-slip surface. This type of raised dog bath has been recommended by Dog World Magazine in their "Notable Products for the New Millennium". Does your dog tend to get away from you during a bath? Bathing your dog is a challenging, but essential, part of dog grooming. It's funny how your dog will cleverly evade you when you try to get him into a dog bath, but will be just as determined to get past you when you don't want him to jump into the water at the beach. If you're washing your dog in a room with a door make sure to close it so that your dog will not see an escape route or get very far if he prematurely gets out of the bath. This way you'll have an easier time getting him back in the tub to finish the job. It can be a challenge bathing a dog that's wiggling around but the challenge gets a little tougher when your dog is an escape artist. If your dog takes any opportunity to get away from you at bath time you may want to consider restraining your dog. Restraints are used during bath time to avoid injury to you as well as your pet. Some pet bathing tubs come with restraints included. With these your dog will be safely and securely restrained and you will be able to give your dog a quick and hassle-free bath. Is your dog slipping and sliding in the bath? Slipping and sliding can be the most stressful part of bath time for a dog. Put a rubber mat down on the bottom surface of the tub to prevent your dog from sliding and getting hurt. A sure-footed dog will be less resistant and much more at ease during bath time. Things to have on hand at bath time: Raised Dog Bath — This is a fantastic idea for a dog bath. It's ergonomically designed for both you and your dog's comfort. Your local pet groomer is likely to have just such a bathing station set up in their shop. If you're thinking about buying a tub or basin to bathe your dog in, ask them if you can check out their tub set up. If you have the room or more than one dog, you may find it worthwhile. Pet Shower or Plastic Pitcher — A Pet Shower is great, but if that's not possible make sure you have a large plastic pitcher for wetting and rinsing your dog. Drain Screen — Make sure to protect your plumbing from hair clogs with a simple to use drain screen. Cotton Balls — Can be placed in each ear to prevent water from running into your dog's ears. Pet Shampoos — There are many different pet shampoos each formulated to work on problems such as dry itchy skin, inflamed or dry scaling skin, fleas & ticks, doggy odor, skunk odor, abnormal shedding, quick rinsing for dogs that don't like to take a bath, whiteners for white coats, color intensifiers for dark coats, and coat shine to bring out the natural luster of your dog's coat. You may want to try a hypoallergenic shampoo/conditioner that will gently clean and conditioner your pet's coat in one step. Coat Conditioners — There are many pet coat conditioners that will help manage and or improve the appearance of your dog's coat like crème rinse, grooming spray, after bath dry skin treatment, and herbal mist conditioner that will soothe, re-moisturize and detangle your pet's coat. Pet Drying Towels — If you want to get your dog dry faster check out a specialty pet-drying towel. Some are available that will absorb 10 times its own weight in water! Eye Protective Gel — Are you concerned about shampoo making its way into your dog's eyes? Just put a little protective eye gel in each eye just before bath time to prevent burning and redness. Ear Drying Solution — If your dog is prone to ear infections make sure you have some ear-drying solution on hand. Using an ear drying solution will assure that the ear canal is nice and dry after bathing. Brushes/Combs — There are many different styles and sizes of traditional dog grooming brushes and combs that you can choose from. If your dog has very sensitive or irritated skin you may want to consider a higher quality brush that will not scratch the skin or aggravate existing skin irritations. Pet Dryer — If your dog has a thick, long or double coat it's best to use a pet dryer. Unlike "people" hair dryers, pet dryers are designed to use less heat and more air volume so they quickly and safely dry a dog without damaging the coat or burning the skin. If you use a "people" blow dryer be very careful since you can easily burn your pet! Plastic Bucket — It's very convenient to have a waterproof container that will keep your dog grooming supplies close at hand. Remember to get all your dog grooming supplies ready before hand and let your dog sniff everything. Why you should brush your dog thoroughly before bathing: Depending on the type of coat your dog has you may need an assortment of grooming brushes and combs to properly care for your dog's skin and coat. Before you bathe your dog it's always a good idea to brush your pet's coat thoroughly to remove any tangles or matted areas as well as any other foreign debris. Many dog owners know first hand that if they don't spend time removing old, established tangles and mats before bathing many times they just get worse. If your dog's coat tangles and mats easily make sure to look for shampoos and conditioners that are formulated to prevent and break up mats. If your dog has gotten into any sticky or gooey substances like tar or gum never use commercial solvents or industrial cleaners on your dog's coat. Many of these are toxic to your dog. Try dissolving these substances with mineral oil. If you're unable to remove something from your dog's coat carefully snip away the affected area. It's always best to sacrifice some hair or fur since it will grow back rather than risk damage to the skin. Brush your dog thoroughly between baths, daily if you can, to distribute the natural oils and remove tangles, mats and foreign matter. Choosing the best pet shampoo/coat conditioner for your dog: Always use a pet shampoo that is specially formulated for the pH of your pet's skin. Never use "people" shampoos since our skin pH level is much more acidic than our canine friends and could irritate your dog's skin. Start bathing your dog at the beginning: Your Dog's Head A popular bathing technique is to start at your dog's head and work your way toward the tail. This is especially the case if it's possible that fleas are present. If you know that your dog has fleas you may want to use a flea & tick shampoo. Starting at your dog's head forces any fleas to gather away from your dog's face, eyes, and ears. It i

• United States
14 Jun 07
If you want your dog to smell nice, instead of bathing all the time, they sell dog wipes at the pet store- they are like baby wipes only you use them on the dogs fur- it removes top soil from fur and makes them smell nice. The last one I bought smelled like coconuts.

• United States
18 Jun 07
Yes I have had many dogs- and bathing them often is not a good idea- thats why I suggested the dog wipes- other people I have suggested it to like them too. If you get water in their ears they will get mites in their ears and that is not good- then it can also get infected- which has happened to one of my dogs. Thank you for the BR.

• United States
13 Jun 07
I always heard not to bathe them more often then every two weeks because of the way their skin and coats react, and their natural oils. If they are bathed too often it can cause dry skin and make them more susceptible to skin irritations and infections. Also, be sure they don't get chilled. I keep my dogs in until they're dry unless it is over 75 degrees outside.

• Philippines
14 Jun 07
Oh, okay, so that explains why they say it must not be done often. This makes more sense to me. I also thought that bathing her often would make her happier coz she will feel fresher. The whether isn't a problem though coz usually we have a pretty warm whether in our country. But I really do dry her up well before she goes about her usual routine. Thanks a lot for your response. It is an informative one and really helpful.

• Philippines
14 Jun 07
Fraxie, how do you clean a dog's ears? I'm just hesitant about this because the ear is a pretty sensitive part of the body. Is there a proper way of doing it? Thank you.

• Philippines
18 Jun 07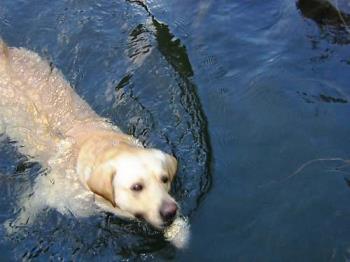 In the Philippines, many dogs are seldom if not never bathed. May be because many families are poor that the needs of pets are not priorities because we can even hardly satisfy our human needs. Practically all families in the rural areas have dogs but they do not take care of them as how I see from the posts of many users here. Dogs eat from the food of the family, not dog food from the grocery, etc. Dogs are sometimes bathed, it depends upon the necessity, and when the master goes in water, the dog also go swimming and dogs are good swimmers and this is one way to take off their fleas.

• Philippines
18 Jun 07
Hey, I'm also from the Philippines but the dog I have is a house dog and she has to take a bath often because the house might stink if she doesn't. Anyway, this is really a pet dog who does nothing but sleep, eat and play. I also took her swimming to the beach once but she doesn't like it. I've seen lots of dogs swim in and out of the water like its the most normal thing to do. That's just amazing. Thanks luzamper for your response.

• United States
14 Jun 07
I don't think that bathing them often is bad for their system, but it can dry out there skin. I usually wash my dog about once a week and I use an oatmeal shampoo, it helps to condition his skin and hair. I do however think that twice a day is a little much!

• Philippines
18 Jun 07
Oatmeal shampoo, huh. That's new to me. It does help condition their coat? Well, I'll give that a try as well. I was thinking of how I can get her fur to be softer and shinier. Don't worry, I wasn't planning on bathing her twice a day. That would be too much for me also. Thanks a lot FSCAries.

• United States
14 Jun 07
Dog skin is more sensitive to soap and water exposure than human skin simply because they have the protective fur covering and we do not. If you bathe a dog often, you will irritate his skin because you will wash away the dog's natural oils. If your dog is especially smelly, consider changing the dog's diet to something else. Sometimes lower quality foods can contribute to a doggy smell. Usually once a week is sufficient enough to keep a dog clean. Bathing everyday IS very damaging to a dog's sensitive skin.

• Philippines
14 Jun 07
I didn't really mean everyday but at least more than once in a week or like thrice in a week. It's nice that you mentioned about their skin being more sensitive than ours, this is very informative. I now remembered that the more hair there is that's covering the skin, the more sensitive the skin underneath is. Diet is another concern for me though coz she chooses her food sometimes. We've already tried different varieties of dog food but her appetite is inconsistent. Sometimes she gobbles up that food quickly and sometimes she doesn't eat that same kind of food. This has nothing to do with not feeling well coz if you give her another kind, she eats it! This is another story but I would consider her nourishment top priority than her odor. Thanks so much.

• United States
13 Jun 07
I do not thinkthat a dog needs to be bathed but once a week or 2 if neccesary if it is an outside dog and all i think that if you bathe it too long and all it could hurt the dog and mak it more prone to ticks and fleas and all.

• Philippines
14 Jun 07
That's odd coz i noticed that my dogs ticks and fleas disappeared when I bathed her more often. Thanks for the response.

• United States
13 Jun 07
We usually bathe our dogs once every two weeks unless they get into something outside. The only dog we've ever had get sick was out lil Chiuaua mix. In the winter time we usually only give them a bath once a month just depending on how cold it gets. You just got to be careful and make sure you dry them off really good and don't get too much water in their ears.

• Philippines
13 Jun 07
Thank you for your response and I will keep these tips in mind.