Have you ever been to an American Indian powwow?

United States
June 13, 2007 6:48pm CST
I'm on the board of a local Native American Indian Center and we sponsor two powwows a year. But I'm often working the booth and don't get much of a chance to really enjoy the powwow. So last weekend we went to a powwow at another part of the state. I really enjoyed it. The setting was amoung trees so there was shade and it was a beautiful day. I was thinking how few people get to experience that and wondered how many of you have attended powwows.
5 responses

• United States
14 Jun 07
I try to go as often as I can. There is a pow wow that is only about 30 miles from where I live and I also have some of my crafts on consignment at the store there. I have met some wonderful people there and made some great friend. I have gone for the opening ceremonies where I am one of the flag bearer's. The way that my knees and legs are I do not do any dancing although I would love to be able to dance. The pow wow that I go to is in Charlemont, Ma. and they are going to have a pow wow on July 4 weekend. Where do you go to pow wows?

• United States
14 Jun 07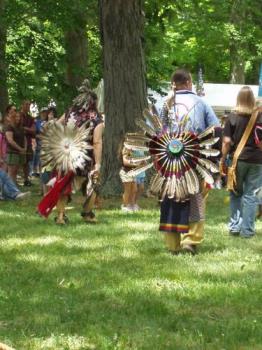 I go to powwows in Ohio, mostly. I've been to the Gathering of Nations one year in New Mexico. THAT was awesome. Thousands of dancers in regalia from all over the country. What nations are represented in powwows in MA?

• United States
15 Jun 07
The Pow-Wows in Charlemont Ma. are open to every one. There are some dances and other ceremonies that are for only one tribe or another but most are open to anyone. There is going to be a Pow-Wow on Juune29,30 and July 1 at Charlemont Ma. Maybe we will be able to meet there. Let me know.

• United States
24 Jun 07
Wish we could! I was just curious about where most of your dancers come from. Ours are mostly plains Indians and a few woodland nations. I like learning about the different nations.


• United States
15 Jun 07
My dad used to be one of the main ranger supervisors for the California State Parks system, and he was always taking the family to the different parks. One of them, like your Center, put on a 'demonstration' (for lack of a better word) of the different ceremonies of the tribe a couple of times a year, and we went every year. Only one of those times was I ever lucky enough to attend the actual powwow, and it was very moving and awe inspiring to me. If I ever get the chance, I would like to go back one of these days.

• United States
15 Jun 07
Check out powwow schedules on-line. There are bound to be some near enough for you to attend.

• United States
18 Jun 07
I have never being to one. I think they have one in Stone Mountain annually, but I have never attend it. I would love to check one out.

• United States
18 Jun 07
You should go! Take a chair or blanket to sit on. Buy some frybread. Have a great day.


• United States
14 Jun 07
They are colorful and provide an opportunity to learn about the culture. I'm glad you got the chance to go as a child. You can probably find one near you at powwows.com if you want to see how your perceptions have changed.