The Absurd.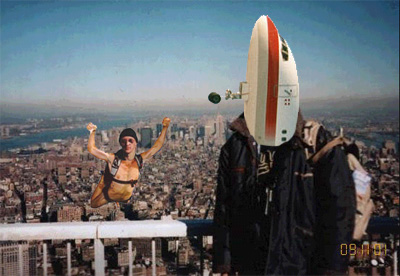 Spain
June 14, 2007 6:17am CST
"How yellow I smell! Can you hear the yellow of it?"This is maybe the easiest way to build an absurd: swapping between the senses. Another way could be finding no meaning characteristics. "Water is triangle shaped." Also, you can use a lie that nobody could believe or nobody cares."I have been to Venus, but it was not that exciting."Or the spreading of knowlege that nobody actually needs."Man walks moving its extremities. So do annimals."Giving people some kind of opinions that they didn't ask for..."Your older son is very handsome and your younger one is very sympathetic."One of the best techniques is building a contradiction indeed."I am atheistic thanks God."But perhaps the most usual way of absurd and non-sense here in mylot appears when we try to put our mother-language grammar in english."Al que madruga, dios le ayuda- To what sunrises, god him help."We can use absurd for ironic purposes, for poetic purposes, for abstraction and creativity, for fun... or just for the absurd itself. What do you think? Can you build a great absurd sentense for me? Do you have other techniques than the ones I have listed? Do you find this post funny/artistic, or just completely absurd and non-sense?
6 responses

• Canada
14 Jun 07
Missak, part of your discussion reminds me of the phenomenon, synethesia http://faculty.washington.edu/chudler/syne.html I actually have the colored letter and number version, so I spend my life immersed in color. I'd love to know what it feels like to have some of the other cross-over sensations. So, although I'm not being very poetic (as usual :) ), you'll be happy to know that I get flooded with yellow when I see your name, Missak, and had difficulty switching to calling you Randy, because the color for that name is so different. Tanya

• Spain
16 Jun 07
Hi. First, check out post 28 in our atheisitic discussion, I tried to explain methapyhsics there. As for this, I find you were very poetic. But actually I am not that yellow, lol. My preferred color is black, I used yellow because I wanted this to be totally absurd. Randy is blacker, isn't it?=)

• Canada
16 Jun 07
Lol. I have no control over it. M's are a very dominant color for me. If anyone has an M in their name, they become yellow, even if they have dark skin and black hair. R is also a very strong dark brown for me. It's very weird, I can suppress it if I concentrate and I'm looking directly at a person, but if I'm just thinking about them, the overriding thing I see in my mind is a patch of color rather than their face. It's like looking at a Necker Cube. I'd love to have some choice over the colors. My husband and I both have names that are a nasty shade of reddish orange. I know it sounds completely ridiculous. It was neat to discover that it happened for other people too. I found out about it one day, when my daughter asked, at age 4, why Saturdays and Sundays were green. (I'd never told her about my colored letter sensations). When I started looking around the internet, I found out that lots of people have the condition and that it can be passed down by mothers to daughters.


• United States
20 Jun 07
".. If you got nothing to say, let me appreciate the noise that comes from this silence.." "..Look into my eyes, and tell me if you can see my dreams, taste my senses, hold your breath for a second.. and enjoy the company of solitude, the surroundings of the emptiness.." "..Kiss me with your eyes, touch me with your lips, taste me with your inner soul and let me exist within you.." ".. I took a trip into the moon, and left my heart on my way back.." "..And I cry myself to sleep, hoping the sunshine will take away my pain and suffering, and a rainbow will make everything brighter and sweeter with its colors.." :)

•
16 Jun 07
I am naturally absurd, i don't do it purposefully it just creeps in from time to time it will usually be simply going completely off topic and start rambling about completely random things, I also do this when nervous, which might be why all my job interviews have gone so bad i give them the impression that i am some sort of deranged maniac that more likely than not will hunt them down and rearange all their CDs in order of release date before eating their hamster if they dont give me a job. I'm afraid i can't think of any examples of the kind of things i do because as i say i do them subconciously

•
16 Jun 07
Green ideas sleep furiously. all the best urban

• Ahmedabad, India
14 Jun 07
Well, Missak, please tell me whats the difference between nonsense and senseless? What ever it is but in literature the term absurdity is used for an identity, which had expressed absurdity in every activity of individual as well as society and all the system connected! So meaning was there really! After second world war few writers and artist/ painters have started this absurdity cult and try to feel freedom of expression! But you have tried your best!

• United States
14 Jun 07
Wow, I like this post, because it has a point. I will have to think about an absurd sentence, since I do not have to translate my language to post. How absurd can I get? Some true statements sound like absurdities:"The square of the hypotenuse is equal to the sum of the squares of the legs." To the average person, that is absurd, but to a mathematician it makes sense.Here is an absurdity, but may sound logical "It isn't fair, they chose his art work, not mine, and they even chose two of his!" That is absurd because the person who starts the contest makes the rules and gets to choose. How about the "Orange is a poison that seeps into your mind and drives you crazy" ? I will let that rest as my absurd original statement.

• Spain
20 Jun 07
Ok, I know that post of mine was absurd, but it was all that was in my mind at that moment, and actually I get more responses with that kind of topics that with my deep topics... Your final my absurd original statement is great, but not too absurd so no too funny...