Has anyone here used Bio Spot?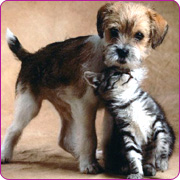 United States
June 14, 2007 10:00pm CST
I was wondering if anyone here has used Bio Spot. It's a new anti-flea and tick medication for dogs, cats, even puppies and kittens. I wondered if it worked and if it was worth the costs. They have a whole line of products actually for it but wanted to find out from others what their input was before I tried it.
3 responses


• United States
15 Jun 07
Oh good to know. I was looking at the cost of it for the cats. Three doses for $15 seemed a bit high and I wondered if it was worth it.


• United States
15 Jun 07
I have never heard of it, but I am curious to see what other people have to say about it. I use Frontline for my two puppies.