Bratz dolls.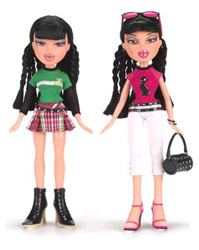 United States
June 15, 2007 8:11pm CST
I have 3 girls that all love the Bratz Dolls. I have gone to see what these dolls look like and on my goodness could they have any less clothes? I mean most of them aside fro m the one who are dressed in PJ's hardly have any clothes on. My girls are ages 10,7 and 5 and I just dont think these dolls are appropriate for them to play with. I know to some people this might seem ridiculous. And I completely understand if you want to allow your girls to play with them thats fine. It is your choice right? But I just think they have to little clothes on those dolls. Has anyone else noticed this about these dolls? I guess there will be people who dont agree with me and that is fine. I just dont like Bratz Dolls lack of clothes. And why are they so darn expensive.....lol?
4 responses

• United States
16 Jun 07
My daughter loved these dolls- I didn't notice they didn't have much clothing- I think it depends on the ones you get- She was collecting them at one time and got one from each collection- I don't think they are any worse than Barbie and their clothes. Each doll comes with a couple of outfits also- Most of my daughters are naked- she always took the clothes off to change them and then left some naked- LOL-- got bored with them- I'd say she had 50 at 1 time- they are going into the yard sale pile soon- I always shopped after Holidays- they always had one style on clearance- usually when they came out with the new styles- they clearanced the old ones- At Wal-Mart anyways. I see nothing wrong with them.

• United States
22 Jun 07
Most all dolls these days are becoming less and less covered. This is also what seems to be happening in real life too, so the toy manufacturers are just moking the style that is out on the market. I dont disagree with you i too think that they are underdressed and need more clothing but my children dont keep their cloths on anyway. I agree that they are exspensive, they have a knock off brand at the dollar general store i think they are called my teen or my scene dolls and they are acually dressed a little more then bratz.

• United States
22 Jun 07
yes I would agree with you, my daughter is 8 and loves them she did het a few for christmas for aunts and uncles and I would have to agree with you they have way to less clothes then they should, and they woner why kids these days act older then they really are

•
16 Jun 07
I don't like them for the same reason. My wife and I discussed things like this and we both felt that they was far worse babie or cindy or whatever they are. I just don't think it's the way for a child to see because they might get the idea of wanting to dress like it and I'd have a fit. (It's bad enough as it is over here) ~Joey