Was Adolf Hitler a patriot ?? or a terrorist ???? according to u ???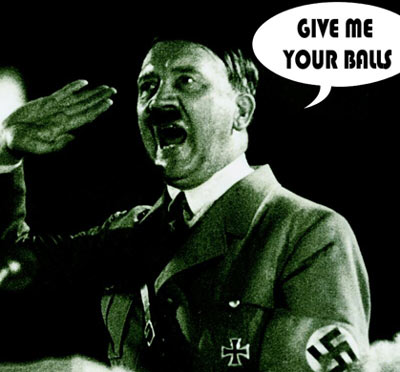 India
June 17, 2007 1:34pm CST
Well everybody knows the famous Adolf Hitler...the leader of the nazi group of germany duringthe second world war. Arguablly one of the worst men who lived on earth. But my question is was his motives for a good cause ??? i mean was he really doing those things for germany ??? or was he just doing that for terror and power ????
3 responses

•
17 Jun 07
He was a terrorist. He enjoyed inflicting pain, also seeing "a" world "how" he wanted it and that meant getting rid of what he didn't like. Also greed for power and more land, a very sick person. terrorist would be the only way to label him. ~Joey

• India
17 Jun 07
K man i appreciate ur view too. The deeds he has done are no doubt as that of a terrorist of our age now. But i do think that to a certain level he was a patriot and did all those deeds for the country ...with a stupid sense of course....by throwing the jews out of germany etc....i guess he thought his country wud be better off without them ... lol anywhich way ..he sucked !!!!

•
17 Jun 07
Yeah sure he was. But I think he's more on the terror side and thankfully many nations have learnt since. :) Cheers for sharing your views. ~Joey

• India
18 Jun 07
heheh lol Ya good many nations have learnt from it yea.... but now we have to deal with BIN LADEN ... :p



• India
18 Jun 07
hmm so for u he is a murderer...ok man thanks for ur views

• Germany
17 Jun 07
Adolf Hitler was a mentally and emotionally very disturbed person. Yes, he wanted to do good. He could not tell right from wrong. He imagined to do it for Germany and for power. I do not think the word terrorist was in use way back when.

• India
17 Jun 07
Ya pretty much true. I wud say he was a dictator more than the word terrorist wud suggest. Thanks for ur views man. his mental illness caused a lot of lives in the past. its sad man .