when was the last time you said "i love you"?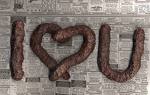 Philippines
June 19, 2007 9:20am CST
hmmm I'm not one who's inclined to say "I love you" to my loved ones so I can't remember teh last time I said I love you. How about you?
3 responses

• Ecuador
21 Jul 07
9 hours ago i said i love you to my girl she's just sleeping now lol

• United States
19 Jun 07
I tell my loved ones everyday the words I love you but I think just as important is to show them your love.If I lost someone I love dearly I would want them to know that they were loved.Everynight at bed time my husband and I say the words I love you So if I dont wake in the morning those were the last words he heard from me.