Taj Mahal- the symbol of love and passion!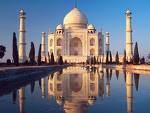 India
June 19, 2007 11:24am CST
My heart salutes to all the miracles and wonders that happened in the name of love; my heart salutes to the Taj Mahal!The Taj Mahal is generally considered the finest example of Mughal architecture, a style that combines elements of Persian, Turkish, Indian, and Islamic architectural styles. While the white domed marble mausoleum is the most familiar part of the monument, the Taj Mahal is actually an integrated complex of structures. It was listed as a UNESCO World Heritage Site in 1983 when it was described as a "universally admired masterpiece of the world's heritage!If you agree with what I just wrote, then here's a chance to vote for your favorite 7 wonders of the world. you may log on to the following website to caste your votes:www.new7wonders.com Come, let us vote for the symbol of love, the Taj!
7 responses

• India
20 Jun 07
Even I Love Taj And Voted For Both On The Website And Via Sms.Even All My Friends Have Done The Same.We Are Hoping That the Taj Mahal Will Remain In The New Seven Wonders Of The World.

• India
20 Jun 07
hey since u have voted for Taj too so you also get a + for that! Cheers


• India
19 Jun 07
Hey thanks for voting for Taj Mahal! you got a + !!

• India
19 Jun 07
Infact, to add more, the results for new seven wonders of the world will be declared on 07.07.07

• India
22 Jun 07
i agree. tajmahal is a true architectural marvel.. i have voted for taj mahal.

• India
21 Jun 07
hey ofcorse i vote for taj.....after hearing all the stories of this great monument i feelits much different from others....a king made this for his beloved wife,taj is a history as theses days there will be no such husband who make this history again and gift it to his wife instead nowadays husbands want change....they even dont feel down by changing wives.very sad thing...........our india is full of traditions and i dont want it to change as per western cultures and traditions.

• India
22 Jun 07
I think its somehow true that there will be no other Taj built again! Thanks for voting the Taj.

• India
25 Jun 07
I love Taj Mahal. I will always vote for Taj Mahal for one of the 7 wonders. It is really a wonder. Thanks for the very good information about Taj Mahal. I already have voted in that site for Taj. Invite all myloters to vote for Taj, a wonder of love, a wonder of world.

• India
20 Jun 07
i like Tajmahal for being a great monument but to say the truth i don't believe that it should be included amongst the 7 wonders of the world. there were ,or maybe still present today, many other great human built things that i think Tajmahal should take a back seat:) but anyway it's beautiful and perhaps romantic too;)

• India
20 Jun 07
For whatever reasons if u r not choosing the Taj to vote then that's totally your personal choice and I got nothing to say. But you may log on to the following site to caste your votes: www.new7wonders.com