Have you ever tried claw covers for y our kitty?


United States
June 19, 2007 6:01pm CST
I was in a discussion with a mylot friend(margieanneart) and we happened to be discussing declawing which i thought is horrible. Anyway,we got to talking about the claw covers i have on my kitty and i was wondering if anyone else has them.Have you heard of them? They are so wonderful.they come in a package with enough for 4 applications and each application lasts for about 4-6 weeks.They work great and are a superb alternative to declawing.
9 responses


• United States
23 Jun 07
they can still can scratch.It's just their claw covers prevents them from hurting the furniture or people

• Australia
20 Jun 07
I detest the idea of declawing cats too. In fact, I had nev er heard of it until I visited Canada many years ago. I don't think it is done at all here in Australia, as vets would refuse. I have never heard of claw covers. In a way, it would be good, as one of my very naughty csats scratches the lounge & she has really messed it up. The problem is, both my cats are allowed outside whenever they want during the day, & i wouldn't like to not have them full use of their claws for climbing & protection.. I guess for cats that live totally indoors, these claw covers might be a god idea.

• United States
23 Jun 07
oh yea,you're right.I wouldn't suggest them for outdoor kitties.They would have no way to defend themselves. I wish they didn't have declawing here.Actually there are some vets over here that refuse to do it.The vet we used to go to where we used to live refused to do declawing.

• United States
20 Jun 07
i haven't needed to worry about my current bunch-they are good about clawing only where they should (post). but i have had friends who've used claw covers to great results-they swear by them.

• United States
23 Jun 07
I have heard of people are were pleased with the kitty covers. One of the patients daughter's that I take care of suggested maybe i can ween him off the claws. She said maybe i could take them off and when ever he claws something other than the pad,put them on and maybe he will eventually learn

• United States
23 Jun 07
that's a good idea:) my friend has them on her girl cat-and she bought pink ones-it actually looks cute on her.like she has painted nails LOL

• United States
23 Jun 07
I don't think the boy cats would like the notion of having something that looks like nail polish,lol. maybe i will try it and see what happens


• United States
20 Jun 07
I used to be on a board with a lady who used the "Soft Claws" on her cats. She really believed in them. I just trim my cats nails, I know I couldn't apply them to about 5-7 of my cats & I don't want to remove the weapons of the others with those guys never even getting trimmed.

• United States
23 Jun 07
5-7 ! Wow! That's a lot of kitties! I wish I could have more but it's 250$ deposit on every pet!

• United States
23 Jun 07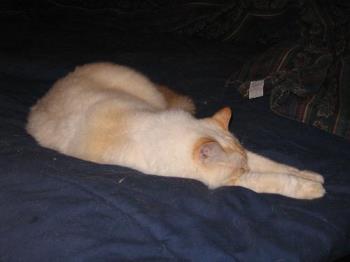 Oh, no Jersey, those are the cats I can't get covers on. right now I have 26 cats! But one is only 5 weeks old, and another is going to her new home on July 5th! (and frankly I'm glad because I'm a bit tired of her!) She's beautiful, but she gets bored & crys - LOUD!

• United States
23 Jun 07
sorry !. 26! you sound like my mom.the neighbors used to call her the cat lady


• Canada
20 Jun 07
nope never tried them bu tdid try walnut shells broke in half adn soem tape then put cat on vynil floor adn watched the antics when they have no traction

• Canada
23 Jun 07
not as poor as when you tried to take them off nothing but fur fangs adn claws lol


• United States
20 Jun 07
My kitty's go in and out of the house. What are these good for? If they can't scratch things isn't that bad for them? I am new to all this. Thanks

• United States
21 Jun 07
they were invented by a vet so they aren't bad.Since your kitty goes in and out of the house ,I wouldn't recommend them as he or she would have no way to defend himself if attacked outside

• United States
19 Jun 07
Thank you for posting this honey. But, where do you get them? Does the vet do it, or is it over the counter? What is the cost on them sugar?

• United States
20 Jun 07
a lot of major pet stores carry them as well as the online mail order catalogs I have.I got mine at petsmart.they range in price from 17-20 bucks and last about 4-6 months..you can do them.they are very easy to do. if your kitty is an outdoor kitty ,I wouldn't recommend it.

• United States
19 Jun 07
Honestly I dont believe in declawing and I dont believe in the claw covers either, for the simple fact that what if your cat has those covers on and your cat gets out. It will not be able to climb a tree to get away from danger at all. The cheapier alternative is to keep your cats claws trimmed. You can do it your self very easily with the cat clippers.

• United States
20 Jun 07
I don't have to worry about my kitty going outside.He has no desire to wonder atall. I have a kitty leash for him but he doesn't like to stay outside long. I have tried clipping them ,but even trimmed they still hurt and scratch.my dad is diabetic which is why I got the covers in the first place.I would not recommend them though for outdoor kitties. they would have no protection.