Update on the new addition.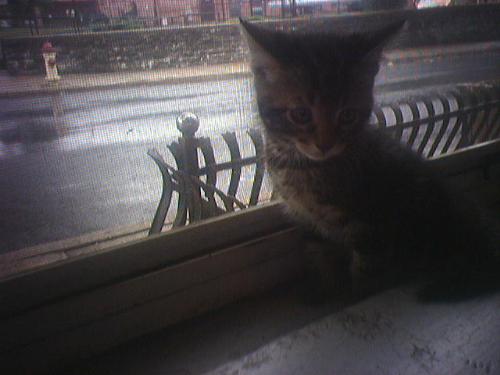 United States
June 20, 2007 7:47am CST
We got him last night and I took the advice of a few of you guys. I had my husband bring him in so there would be no jeliously. And well so far so good. Yeah Fuzzy keeps hissing and growling at him. Fuzzy has even slapped him a few times. But no real harm done. He is a very cute little guy. But he does whine a lot. I had to lock him up in my daughters room last night for his own safety. But other then that he seems to be a good kitty. My kids love him and will not leave him be to explore his new surroundings. I still have not named him so I will be posting a picture of him maybe someone here can help name him.
4 responses

• United States
21 Jun 07
Precious! I love new kittens- Sounds like Fuzzy will soon get to love the new kitty- Kittens whining? lol how cute- I bet your kids love him-- He will be able to check it out soon enough- And he will get bigger and be able to handle himself with Fuzzy soon- Hope all is well with the kittie!

• United States
20 Jun 07
I like the names Fuzzy and Jake or you can call him little Jakey with a long E. I tend to name my animals peoples names. Like Abigail, Sammie, and Petie. I also call them by nick names. Its Pete, Abby, and Sam or Samms. They answer to all. Sometimes Abigail sometimes gets called Abes. I love them and sometimes just call them pet names.

• United States
20 Jun 07
Those are all great names thank you. For now we are calling him baby.


• United States
20 Jun 07
Yeah they seem to be getting along just fine now.

•
20 Jun 07
Hehe.. Well I'll take a look and suggest some, naming them can be so fun and I always like passing on suggestions :) Kudos, ~Joey