'Typing Tutor'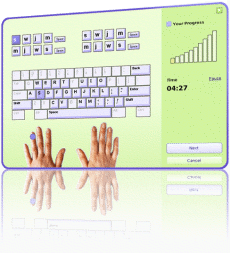 Philippines
June 20, 2007 8:01pm CST
Who wants to improved their 'Typing Skills'? To those of you that wants to improve your typing skills more, you may want to improve your typing speed more as well. The program itself says' they provide customize exercises and helpful feedback to guide you step by step to professional keyboarding'. And note this: They even indeed said, 'As a result your typing speed will increase significantly saving you a lot of valuable work time'. So people, if you're that interested just check this link out and you could download the program yourself for free. http://www.typingmaster.com/individuals/pro/
4 responses

• Saint Vincent And The Grenadines
21 Jun 07
this looks useful for improving our typing speed....anyway i think i type fast enough already, but will give it a look. thanks addy.

• Saint Vincent And The Grenadines
21 Jun 07


• Luxembourg
21 Jun 07
thank you frd for sharing with us such a nice stuff hope to learn typin fast through these softwares

•
21 Jun 07
This is particularly interesting, especially as it is free. Because I am a trained pianist, I found it quite easy to built up speed on the computer keyboard. But to get the correct positions of my fingers and hands on the keyboard and to practice hitting the right keys whilst looking at the screen and not at my hands, I bought a book on typing skills many years ago, before I had a computer that was on-line, and practiced about 20 minutes every day just typing the exercises to perfect my skill. It is right, if you can improve you typing skills you can save a lot of time :-)

• United States
21 Jun 07
Yep, pretty much all of these programs work. The whole idea is to have an image of a QWERTY keyboard up on the screen, with fingers on the home row, and to get you to look at that instead of your actual keyboard. Muscles have memory, and you'll get used to it eventually. My keyboarding teacher was a 3-1/2" floppy disk program for DOS called "Typing Teacher." Believe it or not, I still have it!