How Do You Cope With A Crying Child That Wont Stop?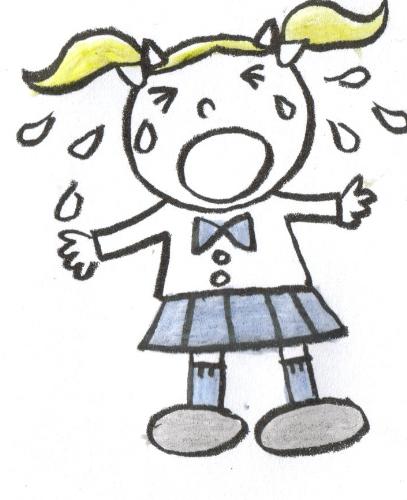 Turkmenistan
4 responses

• United States
21 Jun 07
Duct tape! (just kidding) It depends on the situation, if I'm in the car I turn the radio up. In the house, tell them to go in the toy room. It really depends on the situation.

• Turkmenistan
21 Jun 07
I was kind of nervous about the Duct tape thing. Now that you mention the radio thing, I remember something. When my two oldest nieces were little and they would not stop crying, no matter what I did, I would lay them in the playpen together and close the door and turn up the music. I have since learned though, that it could cause mental issues to agnore a child's crying. But, I guess a time out would be good.

• United States
21 Jun 07
I have delt with a child with A.D.H.D. for 18 years, my daughter. But the duct tape does work! (Still kidding) She wouldn't stop shouting lots of times, the radio worked, even in the house. Depending on the age of the child, there are other things you can try. If the child is 4-12 there is a book called 1, 2, 3, magic, it explains how to use fingers to suggest a meaning. I highly recommend this book.

• United States
22 Jun 07
I count to 5 using my fingers too and for some reason my son seems to respond to that and i am not sure how i even got started with using that technique - weird!!!


• United States
21 Jun 07
Depends on what happened to make the child cry and what age the child is. Babies that are colic there is nothing you can do but try to sooth the baby. Pacifers work on some kids and some they don't. Babies could be crying for several different reasons so you basically have to be a mind reader and figure out why they are crying (and when you become a mother you will become a mind reader real quick! lol). For toddlers or other children it's better because most can tell you whats wrong. Different things will work with them too. One thing is to ALWAYS remain calm and don't lose your cool cuz kids can pick up on this and will cry harder sometimes because of it. Best thing to do is walk away some of the time and either let someone else handle the crying child or just take a minute outside to regroup and then once you are calm, you can handle it.

• Turkmenistan
21 Jun 07
My first job at 16 was at a day care center. We had a child come for one day, who had colic. I don't remember how I dealt with it, but he did a whole lot of crying. Now my second niece was a mess. She would cry and cry. No matter what you did, she would not stop crying. She was not colic, but she would cry so much. If you tried to give her a bottle, it did not stop her. She would choke on the milk and keep crying. I think because I was much younger, I was better able to deal with it. Now, I don't know.

• United States
22 Jun 07
I am sure if the situation arose, you would be able to handle it. Me? I thought diapers would be the problem. I literally gag when changing OTHER people's kids diapers. I am perfectly fine with our son though. There is a mommy mode that kicks in once your child is born =)

• Turkmenistan
26 Jun 07
Diapers don't bother me. I have had to change adult diapers. I think things become easier when we can feel compassion for people. And I know that I would not want to have to sit around in that mess. For me, I am super sensitive. If my child cried, I would probably cry to. I think they seem all the more helpless when you realize that you are the one that has to help them and no one else is going to care like a mother does.

• United States
22 Jun 07
My son has never been one to cry that often, but he does whine now and then and that annoys me a bit. Its sometimes difficult to control when we are in public and if I don't give him a stern warning, then he will just keep going. I have once taken him out of the store to talk to him, and mentioned to him that if he doesn't stop whining then we will go back home. That often gets him quiet for another 10 minutes or so before he starts mumbling under his breath. My husband turns around and does a "sharp growl sound" and then tells him to please be quiet or else its home. He seems to listen to that quickly LOL

• Cebu City, Philippines
21 Jun 07
I have to treat a crying child with a cup of ice cream or a piece of lolipop.