Things we have done to our family that in the end we regret of it so much.....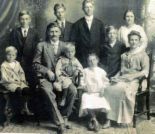 Philippines
June 21, 2007 8:25pm CST
When I was still living in my family, I always wish I could live on my own.. I dont want my mother to control my life. They are very strict with me. Sometimes i just want to run away from home. But I never realized that all the things that they are doing and always telling me are for my safety and for my future. They concerned about me because they just want me to follow the right path. They dont want me to marry at a young age because they want me to enjoy my life first being a single.. I admit i am a hard-headed, but i realized i should've obeyed my parents.. and i miss them a lot. if i will be given a chance to correct my mistakes, i wont hesitate.. and i always wish i will be given that chance.
2 responses

• Philippines
22 Jun 07
honestly, at this moment i feel that i need to go outside our house in order to breathe fresh air since I've been always a part of traumatic experiences at home. For so many years, I am always doing things that would make my family happy regardless if it will make me happy or not. But nobody can ever tell us about the things that we want and the things that will make us complete except our own selves. Our parents are not always right. Sometimes, they are depriving us to learn from our own mistakes. All I want to achieve is acceptance from my parents that I am not a baby anymore and I have my own head and heart to use in making right decisions for my life.

• Philippines
22 Jun 07
my advise to you is that you have to listen to yourself. but you also have to listen to your parents. then think about it a hundred times. u have to balance it. what will be the circumstances if youre gonna obey yourself or your parents? then after that, you decide.

• United States
22 Jun 07
After my mother passed away, i wished that I could take away everything that I had ever said mean to her, and the things that I had done to upset her in the 9 years that I got to spend with her, I realized then and there, that parents are just trying to protect us, and, now that I am a parent a pre teen, I wish I had her there to advise me when I needed her, but I do not, please try to keep an open relationship with your parents as long as you can, you never know when something may happen and you will not have them around anymore.