Alfieklondyke's exercycle is for sale!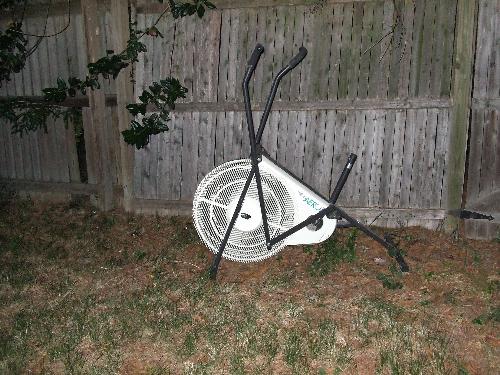 United States
June 21, 2007 9:54pm CST
I can't believe he's trying to sell this derelict piece of c-rap! He's even charging extra because it's the "Tough Guy" model - no seat! I'm sure he is getting rid of it because it brings back painful memories of his "jump and ride" college days, but still...would YOU pay $250 cash for this old thing? Maybe he thinks his autograph will make it more valuable.
3 responses


• United States
23 Jun 07
YOU GO GIRL! Glad to hear you keep balance by going to the gym as well as visiting at the computer. Very inspiring, I will try to return to being a muscle girl, too!


• United States
22 Jun 07
LOL! great idea, Tanya, if that doesn't work, maybe Transdisc will throw in a goat to ice the deal!

• United States
23 Jun 07
T.D, only if you pose on the cycle in the traditional "tough guy" position; after all, Alfie did, probably more than once! We need more shots for our upcoming "MyLot Modern Art" sale!

• United States
23 Jun 07
ROFLMFAO omg thats too funny....would I pay that? no..I wouldnt even pay $5 for it LOL but that is really funny...do I WANT to know why there is no seat or should I just leave that well enough alone ;-)