Arsenal Is This a Team In Turmoil?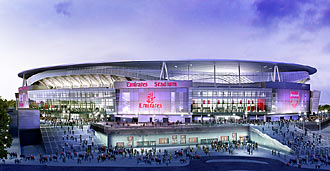 June 22, 2007 1:38am CST
With the departure of Mr.Dein,Henry unhappy with the signings(No Signings), and i don't blame him one bit, and Wenger still has not made any significant signings for next season, as i knew he wouldnt,i feel its time for the Club Chairman Hill-Wood to be shown the door,as the club needs to be winning titles locally and in Europe,we had the chance to be bought by people who had the money to finance the Bigname signings we needed to really compete but they were turned away,if things don't change the club could be challenging to stay in The Championship thats the old(Division 2).
4 responses

•
22 Jun 07
I would blame hill-wood as well for this mess. It is down to him we lost our best players for cheap. I am soo angry that dein got sacked as he has a good working relationship with wenger. And it was dein himself who brought wenger into the club. With the news that henry has signed a contract with barcelona, makes me feel that there are more departures. I hope i'm wrong but it looks like it will happen soon.

•
23 Jun 07
If Henry has really signed with Barcelona,we are in real big trouble,as i don't see any other striker as good as Henry available,the way things are we might be in the Champs.Lge for just the starter if we even get that far,then out we go,and they are rumours that Wenger might be off to Real Madrid or Barcelona,i think real Arsenal fans should be doing all they can to get rid of Hill-wood,just wonder how he would feel if fans start boycotting the Matches in big numbers.

•
22 Jun 07
no please.....im an arsenal fan and am praying the henry does not leave!!! my son and my fiancee are going to watch them play AC milan at the emirates on the 29th july, i hope they are not disappointed!! c'mon gunners !!!!

•
22 Jun 07
i read i the paper yesterday, the american that is looking to take over arsenal is looking to bring dean back and to dismiss the rest of the board. And this hopefully will be a good thing for arsenal, as everyone would no longer feel unsafe and there will be money for new signings.

•
23 Jun 07
I just wonder if they ca cope without henry. he has been the most instrumental player for some seasons now although there are now newer and younger players who it seems can just take over. Also, I wonder if he would be able to make a real impact in barcelona with all those quality world class players they already have in front.

• Singapore
23 Jun 07
I wonder how will arsenal cope with their current situation after henry say he wanna to leave yea ... for me i will find another replacement most likely owen and martins from newcastle yea