WHO HERE IS LOVELESS?

United States
October 24, 2006 10:36am CST
I'M LOVELESS AND DEPRESSED!!!!AM I UGLY OR SOMETHING?
1 response

•
30 Oct 06
No, you're not ugly. I've been alone for almost 3 years now; I just can't seem to find anyone that I think would be a good match for me. Most of the women I meet are too hung up on themselves or too interested in what I have or don't have. It's hard to find someone who likes me for myself.

• United States
30 Oct 06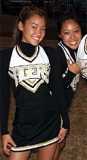 IT'S SAD THOUGH BECAUSE I AM LOVELESS MYSELF!ALMOST ALL THE GUYS I'VE DATED TURN OUT TO BE MAJOR JERKS!!!NOT ALL WOMEN ARE LIKE THAT SO HAVE HOPE THE RIGHT GIRL WILL COME AROUND WITHIN TIME:)