Do you have any tricks to baking cakes?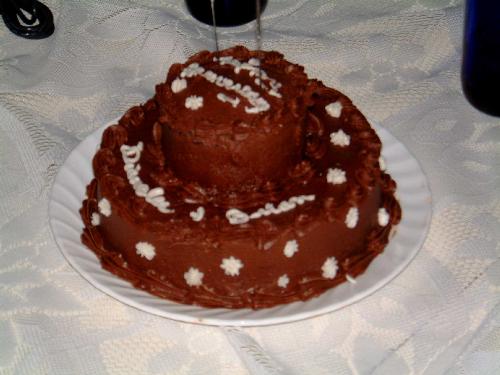 Canada
6 responses

• United States
22 Jun 07
I have no tricks of my own making, but there is a fabulous book called "The Cake Mix Doctor" that has all kinds of ideas to jazz them up. There is another trick to keep the calories down that I learned a while ago. Take any box of cake mix, and intsead of the eggs, oil, etc, just use the mix and a 12oz can of diet pop (any flavor you like). The cake is very crumbly and moist, and doesn't hold up like a traditional cake (because of the ommission of the eggs), but it makes a nice treat if you are craving cake but need to watch your calories.

• Canada
24 Jun 07
LOL yes I slam mine down on the counter pretty hard. LOL that is funny, I would be afraid to slam it to the floor in case it splatter out making a mess. It sounds like those women really enjoy cooking! Keeping it fun! LOL or maybe they are getting out all their frustrations. hehe I like it!

• Canada
25 Jun 07
Ooops that comment was for Nardz13 below; this one is yours. I have never heard of the Cake Mix Doctor that is a good idea for a book I am sure. Now that sure is interesting about the diet pop, I might try that sometime. I might! :)

• New Zealand
23 Jun 07
Hi. Look I dont know if this is a trick in baking cakes or not, but I have seen my sister inlaw and mother inlaw, drop a sponge cake, thats in the tin, on the floor, before baking it, and I really thought they were mad, but they told me they do it, to get the air bubbles out... Have you heard of that trick before lol...

• Canada
25 Jun 07
Nardz I am a dweeb, I left you a comment in the wrong spot. Look up, way up.

• Singapore
23 Jun 07
Here are some tips for baking the perfect cake every time: Always bake cakes on the center rack of your oven. This gives the cake a more even, consistent baking pattern. Always use the right pan size and preheat your oven. The wrong pan size can burn your cake or have it sticking to the sides of the pan. Properly measure all ingredients for the right taste and consistency. Grease cake pans with shortening and then lightly dust them with flour. However, do not grease pans when you are cooking sponge-type cakes.

• Canada
25 Jun 07
Excellent points and I never thought about the pan size before that way.

• Canada
23 Jun 07
I usually make my cakes from scratch. I find when I do a store bought cake mix, I always have trouble because we would buy the single 8 inch square packages and they would not be enough. I would say buy the best brand like Duncan Hines and not the store brand. Make sure the pans are greased and floured, and you have them on the middle rack in the oven. Have the oven heated before you bake them, the eggs at room temperature, etc.

• Canada
25 Jun 07
I heard before that eggs at room temperture for any baking was a good idea. I just always for get to do it. Bad habits die hard.

• Canada
23 Jun 07
Ha , the trick is to follow the directions , and don;t make it any other way. my daughter made up a cake mix the other day , and didn't bother to read the directions. She followed the directions for browinies. So she used a spoon to mix the batter instead of a mixer, and she left lumps in it. We could eat the cake but it didn't rise as much and didn't have the same texture. But maybe you are not talking about that at all, maybe you mean something to improve it and make it fancy . I know that a package of dream whip will help make your cake fluffier and raise higher. Add chocolate chips, or blueberries for a different flavor .

• Canada
25 Jun 07
LOL I thought you were my mother there for a second. She always tells me to stick to the directions. I love the dream whip idea I will have to try that.