What's your rank on Prizee?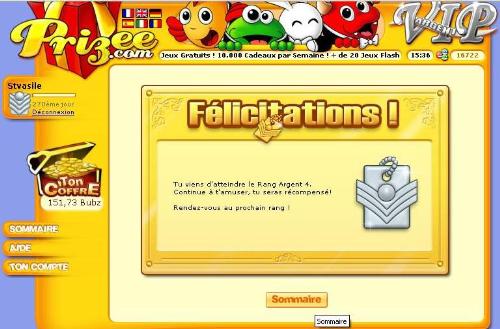 Romania
June 23, 2007 9:21am CST
If you have an account on Prizee.com, what is your rank over there? I just became "Silver 4" today!
8 responses

• Poland
22 Nov 07
I got to know the site like 50 days ago, i had no idea that the site is so great! Righht now my rank is silver 1. And im called VIP there. ;) I have been given 2 secret games, i was hopeing they would be games, but they are only scratches. Congrats of ur silver 4, but it was 6 months ago i guess u are reall gold VIP now, am i wrong?




• Serbia And Montenegro
1 Oct 07
Im silver 1. But im started to play more acctive now, I hope I will get gold quick, I use much max packs lately.

• Philippines
27 Jun 07
Hmmm, I did not know what prizee is. I am about to check it now.

• Malaysia
28 May 08
I'm just new to this site, and I'm Copper II now.