Down memory lane with a Frito Chili Pie!

United States
June 23, 2007 10:31pm CST
Most of my fondest memories seem to revolve around food. I was shopping for groceries the other day and saw Fritos on one aisle and canned chili on another and decided to treat myself to an old, old love. When I was a teenager and gas was only 25 cents a gallon (Yes, I'm that old!) we used to pile into a car and "drag" main street for hours. (Drag means driving up and down, up and down. Sounds stupid and boring now, but it was sure fun then.) Then we would meet up with all the other teens at the local drive-in food place that was the latest hangout and order a Frito Chili Pie. This consisted of a small bag of Frito brand corn chips with diced onions, shredded cheese and chili poured over the top. UM.m.m. so good! Well I fixed a Frito Chili Pie for my lunch yesterday and served up some good eating and good memories. Just thought I'd share!
7 responses

• United States
24 Jun 07
That sure is teenager food!I ate some weird stuff too as a "stupid-kid".

• United States
24 Jun 07
What do you mean weird and stupid kid? I'm still eating and enjoying it!

• United States
26 Jun 07
but do you survive on it? You know the diff 'tween good food and bad food, right?

• United States
28 Jun 07
Yeah, I know the difference. The "good" food is the stuff that has no taste!


• Australia
26 Jun 07
I love Nachos, that's corn chips, tomato salsa, and shredded cheese popped into the microwave till the cheese is beginning to melt. Some like it with sour cream and avocado spooned on top. With the Frito Chili pie, are the onions cooked? And when you say "chili poured on the top" is that a sweet chili sauce or something else. It sounds delicious and now my tummy is rumbling and my mouth watering.

• United States
28 Jun 07
It is just as good as it sounds. I just use canned chili with beans. It can be any kind of chili you like. I like the onions raw, which makes it easier, but you can cook them if you like!

• United States
3 Jul 07
mstickle, the best way to eat frito pie, as per my humble opinion, is to make a large layer of fritos in the bottom of a bowl. the pour on your chili (I use the no bean kind). then you sprinkle it with lots of shredded cheese. I like it with a huge dollop of sour cream and some Pace picante sauce to top it off. then just dig in with a spoon and enjoy. My sister likes to put pickle relish on hers and my hubby loves a dollop of cream cheese on top of his. Oh, and diced fresh jalepenos are good too. I think we should have frito pie for supper today. :)

• United States
26 Jun 07
susieq--naughty naughty...I just ate and reading this is making me hungry again...gee, I never had that before but it sounds oh, so good--I plan to print it up...I want to try it--uh..25=cents a gallon..yikes! What did you drive a model-T--LOL Just kidding!!!!

• United States
26 Jun 07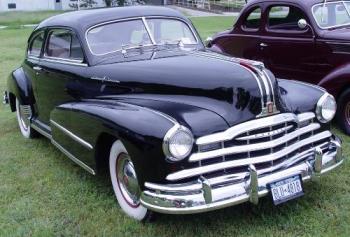 Wow--the late 1940s and 1950s cars were something else..so big and room you could live in them...thought I'd give you a trip down memory lane here....did your car look like this??

• United States
26 Jun 07
Just about. Mine (my mother's, actually) was a lighter blue. They were roomy. Got 13 people in it one time! Also did some drag racing. Flat out it could do a quarter mile in 30 minutes!

• United States
24 Jun 07
OMG!! I was just talking to my mom about Frito Chili Pie yesterday. We were talking about going to high school football games and how this was THE food to get at the game. I remember they would slit the bag of fritos up the side (long end) and then pour the chili over the fritos, scoop on some shredded cheese and then pile on the onions if you wanted them. Those were some of my best memories. Eating frito pie with my friends hoping our school would win. I actually went out to the store just to buy fritos, chili and cheese. I am making frito pies for our lunch today! I am going to try it with those new fritos, the tany roasted corn ones. I bought the old style plain ones too.

• United States
24 Jun 07
You do realize, of course, that you are telling me your age! I guess great minds run together, huh? I hope you enjoyed your lunch as much as I did with mine! Thanks for your reply.

• United States
25 Jun 07
Yeah. I am 35. I went to Dalla Christian School for jr. high and we always had frito chili pie at the football games. Then in high school I went to Skyline High School and I always bought frito chili pie at the games when it was offerred. Oh, and the drive in. I remember being a little girl and going to the drive in with my parents and cousins to see movies. We always got cokes, frito pie and hot dogs. We would lay down on the top of the station wagon and watch the movies. It was so much fun. If we got there early enough, my parents would let us play on the playground before the movie started. I saw Grease at the drive in as a little girl. Fond memories. Now, I have to go all the way to Lamesa, Tx to go to a drive in. I think that is so sad.

• United States
25 Jun 07
Oh, my young child. I have children older that you! But glad my memories have continued on to another generation. The drive-in I referred to was a food place, but your mention of drive-in movies brought back a whole new set of memories! Thank you!

• Philippines
24 Jun 07
Life seems pretty simple before, isn't it susie. You can enjoy eating frito chili pie with gusto and everything was cheaper and affordable. There will be times that I kept wondering how important a dollar was before. You can stretch it and buy a lot already. No pressures nor heavy gadgets available yet. You sure had a lot of fun and mischief eh.

• United States
24 Jun 07
Yes, we knew how to entertain ourselves without plopping in front of the boob tube or (heaven forbid) the computer! It seemed like a simpler time. I guess that's what makes the memories good.

• United States
24 Jun 07
That's what we had for dinner just this past Monday...it's one of our favorite quick meals! Around here they are called "Petros". I was first introduced to "petros" at the 1982 World's Fair in Knoxville. We lived in Knoxville and would go to the fair almost daily. The "Petros" restaurant was a tiny little place with only one small window where you placed your order. Now we have "Petros" in our malls and they serve lots more than "petros"! They have wonderful orange tea!

• United States
24 Jun 07
That is a chain we don't have in Florida. Sounds good! Thanks for your reply.

• United States
24 Jun 07
We had the same thing only it was reversed; the chips were on the top and the chili and extras were on the top. Another thing that we had all the time was sausage and beans, I think the Americans called it 'beans and franks'. My mom used to make the baked beans from scratch and add honey and brown sugar to them when they were done cooking then toss sausages in with them. Great, now it's 11:30, the stores are all closed and I am hungry! That will teach me to put off grocery shopping!!!

• United States
24 Jun 07
I bake beans the same way now, only I add catsup and mustard with the brown sugar. Now that you mention it, I'm hungry too. Guess I'll get a bowl of cereal since all the chili is gone! Thanks for replying.