Check out how much money I made on Helium.com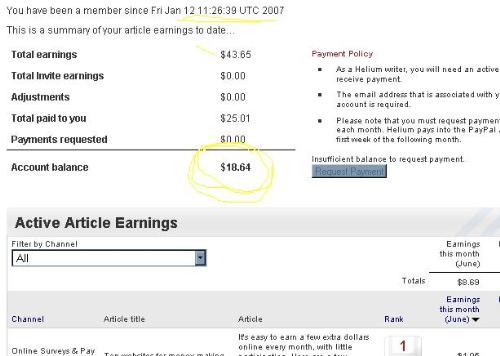 United States
5 responses

• Canada
24 Jun 07
I am at Helium as well and have written a few articles. My articles actually got some decent ratings but I still have a balance of 0. What am I missing here? I am not sure why after I write articles that get good ratings I do not get any earnings? cheers,

• United States
24 Jun 07
You have to write a lot! It helps to write for subjects that people want to read. Try writing about relationships, money-making, or even technology. Also, you may want to try writing an article on one of the cover stories. Usually if I write a cover-story article, it gets a lot of hits immediately, no matter how bad it is. Good luck!

• Canada
29 Jun 07
That is a great tip about writing about a cover story. What exactly is the cover story? I guess it will be those on the first pages that deal with current topics? I want to try this since I am thinking about those articles that cover current issues that is seen as soon as I login to helium - indeed they will get hits especially if ranked in the first five. Never thought of this idea. Thanks

• Hong Kong
29 Jun 07
I am also a helium member.I have only earn $0.01 in my account.May be my articles is not as good as those high rankings you can have a look of my website.It seems like you are working very hard in this website and success.Do you know what is th minimum payout? Thanks.This is my linkhttp://www.helium.com/user/show/225265. You can have a look and give mew some advice.

• United States
29 Jun 07
Hmm. Well, Helium is kind of tricky, it's more for long-term earnings. Articles stay up forever, so it's better to post many articles and then let things trickle in. I have about 264 articles, many of them are number 1. I think that even if you can't write very well with Helium, you can still offer good content - it's not how you say things sometimes, it's what you say.

• Hong Kong
29 Jun 07
thanks for your comment.I will try my best to participate more in helium and mylot!

• United States
29 Jun 07
Well, here you can check me out if you want. Many of my articles receive only a few pennies every day, but it all counts for something in the end. I have few dollars saved up on helium and I'm nearing payout, so I'm excited! Sumi --- http://www.helium.com/tm/401163

• India
29 Jun 07
I went to the site to check because I had never heard of helium.com before. It seems it is good for writers who would like to have their articles published free and immediately. Great site as gives lots of exposure to your articles, but it is really worth the effort if you want to generate income from net? isn't my lot an easier way of doing that. How long did it take you to post so many articles?

• United States
11 Jul 07
With my lot, the money comes in about the same speed it seems. There are also publishers looking to pay for good articles and contests you can try your hand at. It's very good for longterm earnings and getting your name out on the web.

• United States
11 Jul 07
I've earned a total of $0.32, but I've been doing it actively for about a month and I only have 20 articles or so. For more option for making money online, check out my blog: http://buryingkilledtime.blogspot.com