Hobbies

South Africa
7 responses

• Philippines
29 Jun 07
My hobbies include: Playing the piano, strumming the guitar, some painting and sketching, a little bit of singing, writing, and designing stuff. There are actually many things one can do so as to make life a little happier and livelier. All you need to do is expand your imagination. I think most feel their lives are stuck in a routine because they don't allow themselves to experience something new. Life should not limit us to what we think we can do, but instead try to experience everything so that we will know what we can do. What are your hobbies? Thanks for the topic.

• South Africa
30 Jun 07
Hi laydee ! My hobbies are drawing in pencil mainly, but also in pen and ink occaisionally, and sometimes in various different media, and watercolor painting. Another fascinating hobby I have is old movies,I buy books on this subject and also collect old movies on D.V.D. and video cassette. Oh and I am also an avid collector of very old comic books and comic strips.

• Philippines
2 Jul 07
Oh, you draw? That's great. What type of drawings or sketching do you do? I heard that you can actually make money if you're good them. My partner is also an artist (draws) and it fascinates me how you guys could do that well. As for me, the best thing I can draw is only a simple flower or a bee and these looks like cartoons and not the real one. And another, you collect old comic books and comic strips? What type? I love comic strips but I haven't thought of collecting them, I better start now then. *LOL* It's nice to have the ability and the time to do so many cool stuff. It's good that you don't limit yourself to one hobby. Thanks by the way for naming me your best response for the topic. I really appreciate it. Thank you so much. Enjoy your day. Have a nice time posting!


• United States
24 Jun 07
My hobbies include golf and tennis. Golf has led to secondary hobbies which are collecting logo golf balls and tees that I find while out golfing. My collection has grown a lot because friends and family find them for me also. A friend built me two wooden dissplay shelves to hold balls and tees. They are both full, so I'm going to have to find more ways to display them.

• Philippines
24 Jun 07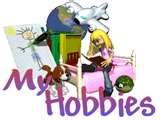 =i like listening to music, singing, dancing, watching t.v, surfing the internet, reading boOks uhm,,, i also like cooking, baking, and cleaning the house, so i never get bored easily, i enjoy doing things, even small things...