How many ear holes do you have?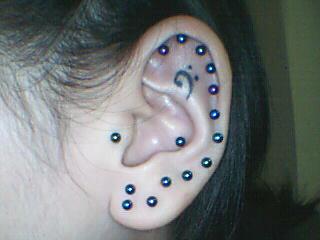 China
June 24, 2007 7:06am CST
Do you have any ear holes?Or got pierced on other parts of your body? I have two ear holes.I did it because earrings are beautiful and attractive.When my ears were pierced,I was very nervous.But when the pierce was done,I only felt like biten by a bug.And now I have a lot of beautiful earrings and wear them everyday:) But I won't get more pierce.Two ear holes are enough.I don't understand why some people like piercing at tongue,nose and navel.What about you?How many pierce do you have?And on what part of your body?
5 responses

• Philippines
24 Jun 07
i have two earholes too. i was pierced when i was just a baby, an SOP if you are born a girl so i do not know how it feels. other than those piercings, i do not have any other. i do not see myself getting other piercings in my body. it is not my thing. maybe i could possibly get a tattoo than having additional piercings.

• China
25 Jun 07
Thank you for your response. What kind of tattoo do you like?Names or attractive images? And I see that your avatar photo is Yuanchang Zheng,who is a famous actor in China Taiwan.Are you a fan of him?

• Philippines
25 Jun 07
well i like to incorporate both names and images. i like a cursive style of righting for names. but i think i will not have a lot of tattoos. maybe one would be fine. yes i like yuan chang! he is my favorite chinese actor :)

• Philippines
25 Jun 07
*righting* = writing hehehe that must have slipped off of my head

• China
10 Jul 07
Thank you for your response. I have two,one on each side.

• Guangzhou, China
8 Jul 07
I am a female, maybe it sounds weird. I don't have any ear holes. Because I'm afraid of the pain and I don't think it will make me look much more beautiful to wear earrings. Wearing clipped earrings are already fine for me. Actually I just wore them in my wedding day:)

• Singapore
7 Jul 07
5 in total. 3 on my left year and 2 on my right. That was when I was young. Now, I only used 2 holes. One on each side of my year. I saw my friend's friend, he looks kind of scary... he has so many holes all over his face and body and his tongue. I wonder what made him do it. Its really scary. I think nose piercing is quite ok although me and my friends always laugh to say they look like cows. Why I think its ok? Because it seems quite common amongst indian ladies so I guess it should be ok.

• Philippines
24 Jun 07
I only have two one hole on each ear. Making it a total of two. I am not planning to add more holes. They are enough for me. I love putting earrings on but I do not like over stuffing my ears lobes. I would only wear a pair of earrings.

• China
25 Jun 07
Thank you for your response. I agree with you that two ear holes are enough.