OOPArt (Out-of-place Artefacts)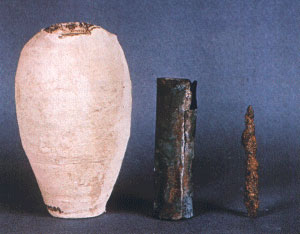 Spain
June 25, 2007 4:45pm CST
Have you ever heard of Out-of-place Artefacts? Do you know some of them? What do you think of that? OOPArt is a term coined by American zoologist Ivan T. Sanderson for a historical, archaeological or palaeontological object found in a very unusual, or even impossible, location. Thoose are my preferred examples: -The Baghdad Battery, dating from between 250 BC and 250 AD. -The Baigong Pipes, unexplained pipes found in a cave in China. -The Coso artifact, containing a spark plug from the 1920s. -The Crystal skulls at Lubaantun, in Yucatan and in Belize.
4 responses


•
28 Jun 07
Never. (OOPART) I have heard of things like this though but I never heard that term. (which I'm pretty much sure of) Very interesting discussion :) ~Joey

•
26 Jun 07
OMG! No never heard of these but you just gave me something new to research. The spark plug is just too wierd for me. I have heard of the Crystal skull one, that one is the neatest one to me.

• United States
25 Jun 07
I don't recall hearing anything specific about OOPArt. But it does sound interesting. I imagine trying to rationally explain these findings is a difficult as explaining how man arrived on the scene. I suppose that explanations are only limited by the imagination.