Kevin Garnett going to another team...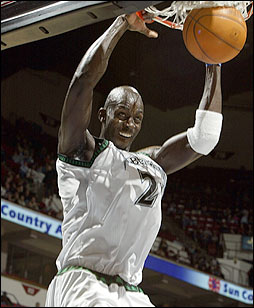 Philippines
June 26, 2007 1:18am CST
theres a lot of humor saying that Kevin Garnett will be traded to Boston, Lakers, and Phoenix. if you are Kevin Garnett which destination would you choose? Boston Celtics and play alongside with Paul Pierce, LA Lakers to be partnered with the nba's scoring champion Kobe Bryant or with the Phoenix Suns and run and gun with two time MVP Steve Nash. and whose players will you take in exhange for garnett.
5 responses

• United States
5 Jul 07
I think it would be pretty interesting if Garnett went to the Celtics. Paul Pierce, Ray Allen, Al Jefferson, and Kevin Garnett on the same team could possibly go far in the playoffs.

• Philippines
5 Jul 07
that will be a dream lineup for every boston fans... but minnesota wants al jefferson... but if that deal with push through the trio of pierce, allen and garnett will be a formidable force

•
4 Jul 07
chicago would be favourite to land him, they got valuables which Mchale/timberwolves like and KG would be happy to go to bull as they are potential contenders with him.

• Philippines
5 Jul 07
if KG lands on chicago they will definitely become a contender

• Philippines
27 Jun 07
If im in his shoes, i would rather ask to be traded to Chicago Bulls, he can be traded with Ben Wallace. Garnett is more than half of his prime and must hurry things out. Lakers? there's no way he can be champion. Kobe is the most selfish NBA player, but thats only my opinion hehe.Boston? negative, Suns? I dont think so, Garnett may not befits the type of play the Suns had established the past years.

• Philippines
5 Jul 07
thanks for responding. bulls will be a good team also for garnett to play, KG will definitely fit in to their system, but i don't think the timberwolves will deal in garnett for wallace for the main reason of ben wallace is not as strong as he was playing in detroit

• United States
5 Jul 07
I think Phoenix would be the best place for Kevin Garnett to go. The problem is what would Phoenix be willing to give up. They are closer to winning a NBA championship than both Boston and Los Angeles. San Antoinio would still beat the Lakers even with the combination of Kobe Bryant and Kevin Garnett. And Boston don't have a chance. Lloyd

• United States
5 Jul 07

Garnett is an excellent player and it will be hard to say what is the better exchange but as the world of sports go today its who is willing to pay him the bigger dolars and throw a couple guys to the team,LOL Kobe is also an excellent player but then so is shaq so hard to say what they will give up.