someone have a good tactic to share with me?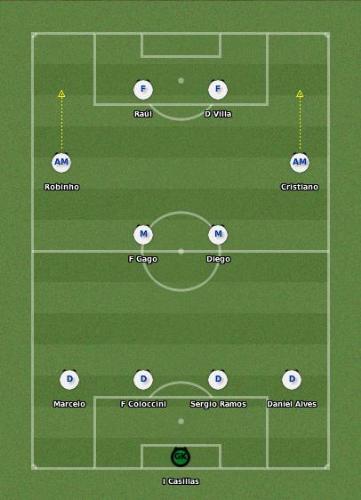 Israel
June 26, 2007 3:38pm CST
i use 4-2-2-4 wings but my wing players are not so good im useing now young players most of my team are young players really young 16-21 can someone give me a good tactic that i can use ?
2 responses

•
26 Jun 07
Raul and David Villa are not great aerial players. For instance, Villa has 20 for finishing so you want the ball played to his feet and not to his head which is the way you are playing by pushing forward and focusing attack down the wings. What i would do is to drop raul into a AMC position and give him the free role, remove the arrows from the wingers and set them to cross from deep but give them high attacking mentality. Also have diego making forward runs, gago as a defensive minded player and make sure your full backs push forward. Also applying general rules like upping the tempo at home games and restricting your full backs at away games will make you play better.

• Israel
26 Jun 07
dammmm :/ i forgot to mention im playing with barcelona !!! :( and im in 2009-2010 now so i sold most of my stars ronldioh injured for about 10 yearsss :(

• Malaysia
24 May 08
Use 4-2-3-1. Short passing. Width start with narrow, if u find ur team capable of controlling the possession well, slowly set it wider until a certain extend where u think it is enuf. If ur team cannot pass the ball around well, try a width with more narrow. the attackers muz have high creativity and off the ball. Set one of the DM to normal mentality and the other defensive minded. If u think ur AMC can play well as a free role, let him do so. DM forward run one set to normal another less. All 5 attackers set high attacking mentality ( striker set to full) and forward run often. Tempo start wit slow. Once u think ur team controls the game well u can push the tempo faster. Pls note that this tactic is only for teams tat have good technical skills like barcelona, valencia and ac milan.

• Malaysia
24 May 08
if u are working with wide width than u would like to play passing focus down both flanks. IF not mixed is alright. If u are not sure mixed is the best. Try select counter attack. If ur team loses too much possession due to counter attacking error then dun use counter attack. set ur AMC to give more through balls, so make sure he has high passing, creativity and anticipation.