Can you share any cute incident in your marriage?

India
June 27, 2007 6:18am CST
In India toe ring is important for a marriage in Hindu custom. In my marriage, my sisters misplaced toe ring somewhere. When the Purohit (priest)who performs the marriage ceremony, was asking for that and me keeping my leg on the grinding stone (that is the custom) and waiting for the ring to be put in my leg second finger, these people were searching for that. Finally they got and like general movie climax, everything went on well. How about your marriage? Did any type of cute incident take place?
1 response

• China
28 Feb 08
Hello dear Buchi. I thank you very much for this great discussion about Indian culture on marriage. I didn't know this, but I have seen it from Indian movies that Indian women wear both nose ring and foot bracelet, which is very beautiful-looking to me. So right now this is still very popular to wear toe ring on the wedding day till ever? Well, we don't have this kind of custom, but our women will wear gold finger rings and bracelets on the wedding day. Thank you again for your Indian culture-oriented discussion for us to know more about your great culture with appreciation.

• India
28 Feb 08
Thank you so much for responding to this discussion. I am also interested in knowing your type of wedding. We wear a gold mangalya, a small gold piece, design as per their community, which the boy ties in the neck of the girl. Then the couple go seven rounds around the fire, like taking a oath that they will be husband and wife. This is the main part of the marriage ceremony. How about in your country? If you can, please respond. I do not know anything about China type of marriage.

• China
1 Mar 08
Hello again, my dear friend. I can only talk about my wedding experience as there are so many different customs in this vast land of country. On our wedding day, I went to my wife's home in a wedding car with my family. I was supposed to carry my loved bride downstairs from the fourth floor to the wedding car downstairs without letting her feet touch the ground. Then we drove all the way home, our new home and I had to carry her again to our wedding room and place her on bed. Then she could get her feet to stand on the floor. By the way, in fact, this was supposed to be done by my brother-in-law, but as he was only a kid of thirteen, he could not do that. I was asked to do the job instead. hehehe. That is it. Then we went to our wedding dinner with our family and relatives and friends and neighbours in a huge hotel till it was over. In the evening, my elder brother arranged for us to have a dancing party in another guest house till ten in the evening. What a great wedding day we had! Thanks again for asking for the wedding information.

• China
1 Mar 08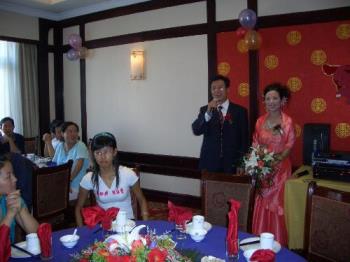 Hello again, my dear friend. I thank you so much for the best response and I have already found a picture to match the discussion about wedding. The picture you see is at a wedding dinner of my colleague. We were invited to have this wedding dinner with a lot of colleagues and had a very nice wedding dinner. Thanks again, dear friend.