"I look like a Twelve year old, but...."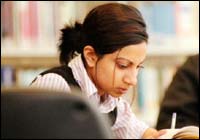 United States
June 28, 2007 12:21am CST
"I look like a twelve-year-old, but I'm really twenty-eight years old. I feel as if no one takes me seriously, and they say I'm a little kid. I get rejected all the time, and people say I'm quite, reserved, ugly, stupid, and unloved. Men don't like me, customers don't take me seriously. I feel sad, and pessimistic." This summary is about my friend. Is there anyone that can give suggestions to her? She is really sad, and thinks that her looks are making people think that way. She really is twenty-eight, but thinks she looks young. I've attached a picture of a similar girl I found on the internet. She is older, but looks very young. So, any advice? Should she tell people to go to h-ll? Should she stick up for herself? Should she say "the world isn't boring because we don't look like each other?" Should she say "What's your problem you white cracker? You racist?" I have no clue, so I would love to hear your advice. Thanks a lot. Have a nice day. Pablo
2 responses

• Singapore
28 Jun 07
Hello my friend, this looks like a case of low self-esteem. Your friend is not having enough confidence in herself. She needs to be more self-assured to solve the problem. The quickest and most visually-effective method might be to dress up. Ask her to dress her part and look "older". When she looks older and thinks and agrees she looks older, she will feel more confident. And once she is confident, how she continues to dress no longer matters, as long as she doesn't slip back to the former state of mind.

• United States
29 Jun 07
Yes, I told her she should stand up straight. She usually humps over. She looks better when she sits up straight, right? Anyway, do you think she could be depressed? She has low self-esteem, you are right. I'm not a doctor, so I can't really tell her what to do. In fact I told her she should see a psychiatrist, do you think that was rude? I was just trying to help her. I'm not sure. Have a nice day. Pablo

• Philippines
28 Jun 07
Well, then it's good that she looks young with her age. tell your friend to change something from her like the ways she dressed up, her hair, maybe she must wear light make up or start giving smiles to everybody. Don't be too silent.

• United States
28 Jun 07
Thanks, I will tell her about that. I agree with you butterfly, better to feel confident about yourself. Have a nice day. Pablo