#6 is out of order & no surprise

United States
June 28, 2007 1:30pm CST
This wasn't a surprise nor is it in my garden or flower beds. I went out for a photo trip last night before getting my wife from work. This is a wild flower/weed growing all over near the Mississippi River. Does anyone have any idea as to what this is called? They are so pretty close up. From a distance I think wild mustard for some reason. HAHAHA! I have a couple shots including a close up again and a shot with a Robin digging for worms from a distance that I'll add to responses later. HAPPY POSTINGS FROM GRANDPA BOB!!~
7 responses

• United States
29 Jun 07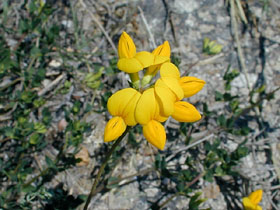 What a pretty picture Bob! We have these plants all over in Iowa, too. Growing along the roadside ditches everywhere. From my searching this morning, I decided that this must be a Bird's-Foot trefoil Also known as: bacon and eggs, butter and eggs, hen and chickens, Dutchman's clogs, lady's fingers, lady's slipper, granny's toenails and Devil's fingers. Here's a link to more information about it. http://www.arkive.org/species/ARK/plants_and_algae/Lotus_corniculatus/more_info.html

• United States
29 Jun 07
Well thank you very much. Seems to be the same "weed". Hahaha!1 HAPPY POSTINGS FROM GRANDPA BOB !!~

• United States
29 Jun 07
You are very welcome. I love this little "what is it?" game!! The trefoils are one of my favorite ditch flowers. Mostly because they are so bright and such a happy yellow flower! :)

• Australia
29 Jun 07
I can't identify it. Is it really possible to be a weed? It is very beautiful. Just imagine a carpet of them everywhere. I rated your photo & wrote a comment.

• United States
29 Jun 07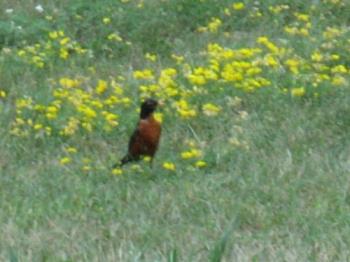 Seems to be a weed. I see them all along the highways and parks and just all over the place. They grow in patches too. Not a large area covered but scattered around in one area. Here's another shot of these scattered about. Thanks again. HAPPY POSTINGS FROM GRANDPA BOB !!~

• United States
28 Jun 07
Grandpa Bob- I have never seen a flower like that- It is pretty- I love Yellow flowers- Usually wild flowers bother my allergies but they are quite pretty to look at- I like them best when there are fields of them- I once took a picture (before the digital age) of my daughter sitting in a field of wild phlox. Gorgeous!

• United States
29 Jun 07
Wild flowers are so beautiful. The problem with many of them is that they are invasive plants. In our state it is illegal to grow many of the plants in your backyard. This is because they grow so fast that they become uncontrollable. They are problematic plants even with their beauty.

• United States
30 Jun 07
Yeah we have some wild grasses that are illegal to have and plant as well here in Minnesota.

• United States
29 Jun 07
Have no clue what kind of flower/weed it is but sure is pretty. Thank you for taking it and sharing with us.

• United States
29 Jun 07
Yes it is very pretty be it weed or wildflower.


• United States
29 Jun 07
That flower is beautiful. It kind of looks like it might be in the Iris family. Anyway what ever it is it sure is beautiful! Good luck on finding out what it is. I hope someone here knows.

• United States
29 Jun 07
I responded right from my email and now that I have read the other responses I see it is a trefoil. Nice! I guess I do things a little backwards.