So how does your garden grow??

United States
June 28, 2007 1:56pm CST
LOL this is the first yr I've been able to have a garden since moving here to the U.S and though its a small garden I'M SO THRILLED and EXCITED about it LOL...I've been goin out every morning to water and I weed or turn the soil once a week if I feel like it and I get SO giddy when I see veggies finally growing! LOL I figure in another week or so i'll be able ot make the family a delisious salad ALL FROM OUR GARDEN!!! I've already been able to harvest some herbs (I have them drying out right now) too... How's your garden doin this yr and are you as excited about your garden as I am about mine LOL
6 responses

• United States
28 Jun 07
I am envious of you. Not to the point of it being a bad thing...but I admire you being able to grow a garden and make your family a salad from it. Let along herbs! :) We finally live in a house and have a large corner area that I could grow a garden. But my partner refuses to let me. I don't know what he has so against it. But he and I do not see eye to eye about it. So, to prevent any arguing, I have not planted a garden. :( So, congrats!!! :) If you happen to grow any good size pumpkins and carve them this fall, please be sure to show us pictures. :D

• United States
29 Jun 07
why not just have some patio pots for now? Would that be something you could agree on..then maybe he'd see the benefits of it on all levels and be more into you having one next yr..Just a thought :-)

• United States
29 Jun 07
It is probably too late in the season to start now. But I think that would be a good compromise. :)


• United States
29 Jun 07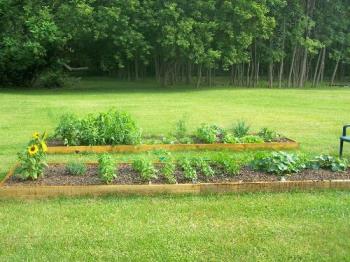 LOL you naughty wicked wicked woman you LOL..Yea there is a lot goin on for you right now..but ya know..even just having a few pots of stuff on the porch might do yu some good as far as relaxing goes...Its amazing how calming gardening is for me..i enjoyed it back in Canada but not nearly as much since we were surrounded by houses and whatnot so it was hard to get into that 'zone' ya know...

• United States
28 Jun 07
How exciting. I remember my first garden I grew everything from seed. Do you have a compost? Did you know most villages have composts where you can get soil for free or low cost?

• United States
29 Jun 07
I've never tried to grow from seed....how does that work out for you? do you think the results are equal to buying the baby plants? Maybe next yr I'll try a couple things from seed and see how it goes..Back in Canada we had a compost btu we havent one here yet

• United States
3 Jul 07
Congrats on your garden! I'm glad it is doing well. We have a veggie garden as well, and it is doing really good. I'm starting to see some veggies. I live in the city and I'm growing corn! The stalks are looking really healthy. I'm looking forward to a good crop this year!

• Australia
30 Jun 07
I moved here about 18 months ago and started to plant trees etc. The severity of the drought and the bore water have killed most everything. Those plants that survived are alive but goin' nowhere. They's jest sittin'. I've had to totally re-think my garden and I don't have many ideas. Most of my stuff is in pots on my (thankfully) large verandah. They get watered with rainwater and the geraniums and zygocactus are giving me lots of colour right now.

• United States
30 Jun 07
It is good to hear that your garden is doing so well. We have a big garden but we have not had a lot of rain this year. The deer are foraging for food and they have discovered the garden. They ate the corn down to nubs and have ate the tops of other things. We have put up some things to scare the deer away. Hopefully, the garden will recover so we can harvest a good crop of food this year.