Do you have wildlife in your yard?

United States
June 28, 2007 4:50pm CST
I have a lot of wildlife in my yard...squirrels, possums, birds, raccoons, a visiting skunk, garter snakes, etc. But today, a buck just wandered through my yard. This would be less surprising except that I live on a three lane highway in the middle of town. And, at 4 p.m. this afternoon a 4-point buck (that's eastern count, for you hunters out there...so he was about two years old), just wandered through the yard. It stopped near my car and I was a bit afraid he was going to use the car to rub the velvet off his antlers, but he just kept walking. Do you have wildlife in your backyard? What is the most unusual wildlife you've seen in your yard? As odd as the deer was, it was the possum that freaked me out the most. Those critters are viscious.
6 responses


• United States
20 Aug 07
Roos and koalas make my squirrels and even the random deer seem like small potatoes. The hubby says that he really liked going to the zoo and feeding the kangaroos. I suppose it would be soemthing like feeding the deer here. Just feels a bit more exotic to us Americans :)

• United States
29 Jun 07
Yes, but you gotta watch out for those killer Carbondale deer... especially if this one came from campus! :) We used to get skunks in the yard of our apartment complex. And there was the day that I got a call to warn me that there were chickens wandering through the yard, but that was the frat boys letting their prank/pets out for a walk. Up here, we don't get many strange animals, but we live on a major road where the traffic drives by a lot faster than it does on 13 (we have exit ramps and streets where you can turn off). The other day I thought I saw a raccoon heading for our dumpster, but it turns out it was just a cat with a wide backside. :)

• United States
29 Jun 07
He might have been a killer campus deer...mostly his antlers looked pretty dangerous, especially around the cars. It's not like he was in the frisbee park or backyard, he was walking between my car and the apartments next door!

• United States
28 Jun 07
Not in my yard, but on the other side of the road I saw a badger one day. As far as I can tell there aren't supposed to be any badgers in central Virginia. Aside from that we have the usual assortment of opossum, deer (who ate the tops off of all my sunflowers), groundhogs, snakes, wild turkeys.

• United States
28 Jun 07
We don't usually get the wild turkeys in town (I live in a city of 30,000) and I've never seen a badger, but we do have bobcats and coyotes on the edge of town. They live in the cornfields and forest. And, I've never seen a live one, but I occasionally see a smashed armadillo on the side of road, as they are apparently migrating northward.

• United States
28 Jun 07
Oh wow! My husband would have loved that. Did you get a picture? I think the only wildlife that I've ever had in my yard was 2 garter snakes. I don't mind snakes but they had to go. LOL Not going to risk my son being bitten by one for sure.

• United States
28 Jun 07
I should have thought to grab the camera, but mostly we wondering what he was doing up here, so close to the highway. We live about six blocks fromt he campus of Southern Illinois University and they have deer all over that campus, so I think he must have just gotten confused and wandered up here. Or, my trees have better bark :)

• United States
1 Jul 07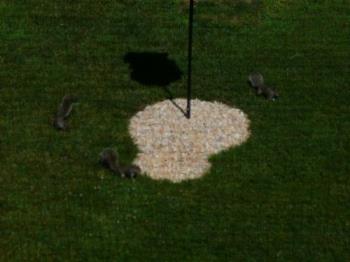 I certainly do have wildlife that visits my backyard. Here is a picture of three squirrels having a snack party near my bird feeder. Of course, I have birds like Robins, cardinals, house finches, goldfinches and more. We get frogs, snakes, groundhog, cats, foxes, deer, skunks and turtles. The bird feeder that I put back there really attracted attention to the other wildlife.

•
29 Jun 07
Well I live in London, so we don't have anything like that in our garden - just the occasional urban fox. Other than that, it's just cats (sometimes mine - sometimes belonging to neighbours), and sometimes birds or a hedgehog at night.