What was the last thing you regret purchasing?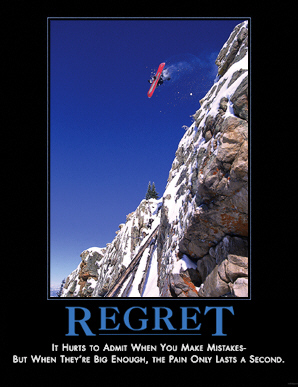 United States
June 28, 2007 5:00pm CST
What was the last thing you regret purchasing?At some point in your life you have very likely bought something and later on found yourself regretting that you did. What did you purchase? Why do you regret it? Was it broken? Was it worthless? Was it boring? Was it stolen? Was it expensive? P.S. I comment ALL responses and I rate them ALL + (positive). So, please return the favor:-) Thank you very much!!
4 responses

• Pakistan
29 Jun 07
the last thing which i regret purchasing was my video camera, i bought it because i was planning to go to northern areas of the ciuntry but unfortunately was unable to go, so there was no use of the video camera for me and i had to sell it at the half price.

• Pakistan
29 Jun 07
no,there was no way to return it because i had bought the camera a few months before i had to go to northern areas, then after a few months the program changed so then i had to sell it, they were not taking it back.


• India
29 Jun 07
I reget for two things. about 20 years back I bought a pant and shirt cloth considered to be superior quality material but turned out to be worthless material. Actually I was duped by the vendor whom I never saw again in my life. I bought so many bi-cycle during my life time and given to relatives. Among them I had one bi-cycle which was my favorie cycle. I regretted the day it was stolen.

• United States
28 Jun 07
The last thing I regret purchasing was a enthernet cable I thought it would fit on my labtop I wanted it so I could watch movies on my labtop on my tv which would be very cool to do but it didnt fit so its useless and I cant find the reciept to return it back to radioshack which is where I bought it from.

• United States
28 Jun 07
Oh yeah that would be very cool. Too bad it does not fit :-\ I hate when I buy things, I can't use them, and I lose the receipt like in your case! I hope it did not cost you too much then. Good luck finding the receipt! Thank you for your response :-) Rated +.

• United States
28 Jun 07
I regret buying my treadmill. It was expensive and I hardly ever use it. I really want an exercise bike but I can't get one until I sell my treadmill. I can't seem to do that at the moment. I really wish that I would have just bought an exercise tape but my husband was getting things so I wanted something too. lol Stupid, huh?!

• United States
28 Jun 07
hehe Yeah I have heard of many people that buy a treadmill, never use it, and end up regretting they spent the money on it. I go to the gym daily and I have only used the treadmill once before because I do not like it. You are right the bicycle is a lot better! I love it. I can burn about 160 calories in 30 minutes and I can do it while reading a book. I would love to have one at home though! Good luck selling your treadmill! It was not stupid you just probably felt left out and wanted something in the house to call your own, even if you don't use it hehe Thank you for your response :-) Rated +.