My flower cart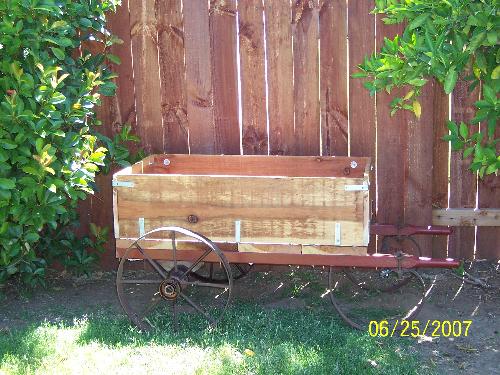 United States
June 28, 2007 8:34pm CST
My husband made me a flower cart. He took antique wheels that where from an antique cart that tanks where put on for welding, the wheels are cast iron and rusted but they still work. He then bought the handles and made the cart out of lumber and took old cast iron springs off of another antique piece of equipment and attached them together. I now have a cart that I filled up with zinnias and a lantana bush in my yard. Here is a picture of the empty cart. I will send a picture of the cart full when the flowers look better in a couple of days. My husband had a massive stroke three years ago and they did not think he would live, then they told me he would not ever talk or communicate again. Well three years later he makes me a cart. He went back to work in 4 months and is doing fine. He is a changed man and it takes him longer to do simple tasks then before, but he is doing better than the doctors said he would ever do.
4 responses


• United States
30 Jun 07
I was so thrilled with the cart. He said I could put it in the yard where ever I wanted to. I thought about putting it in the front yard but then was afraid it would get stolen. So its behind the fence so I can keep my eyes on it. LOL

• United States
29 Jun 07
That is a really nice flower cart. I can't wait to see the flowers in it. Thats great about your husband, or more appropriately, a miracle. I have seen what a stroke can do and its not a nice thing. Its wonderful that he could recover from that and I am sure you were there by his side the whole time.

• United States
29 Jun 07
I was there. It was a rude awaking for me to have to change my husbands diapers. How horrible. He does not need them now thank god. When he came home he could not talk yet, he went to out patient rehab for two months and I had to hire someone to come into the house to make sure he was safe when I was a work. We lived on a farm at the time and I was afraid he would get on one of the tractors or use his chain saw or something like that and hurt himself and not beable to call out for help and someone had to continue to bring home the bacon. I believe his recovery was due to a lot of hard work and prayer.

• United States
29 Jun 07
Well glad he is dong much better. Now have him build me a flower cart as well. Hee hee. I have been going to auctions looking for old "wagon" wheels. The wooden wheels with cast iron frames. I want a few to line my driveway with. Thanks for sharing. Now where's them flowers? HAPPY POSTINGS FROM GRANDPA BOB !!~

• United States
29 Jun 07
The flowers finally are out of shock I will take a picture of them tomorrow.

• Philippines
4 Jul 07
That cart was really very cute. You wont be able to figure out that it was created by a man who has suffered from stroke a few years back. I am so touched. It was also a sign of miracle that he was able to do better than what the doctor has expected. Thank God.