Is this one of private hospital's policy?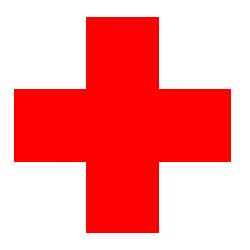 Philippines
June 29, 2007 11:50am CST
It was Sunday afternoon, me and my then girlfriend (now my wife)went to a private hospital near our town to perform a survey that I will be using for my thesis. As we were waiting at the lobby, a guy with dirty clothes and dark skin and looks like a bum came in pressing his stomach with his dirty shirt like he has a deep wound and went directly to the nurse in front. I didnt heard what he was saying cause were a bit far from them. I think, in disgust, the nurse said in a loud voice "I told you there's no doctor available to see you!" I was shocked with what happened next. The guy took off his shirt from his stomach and said calmly, "Okay, I'll die in here." I saw what he was pressing with his cloth. It was his intestine coming out of his wound! There was no blood coming out even though his wound is I think about 3in wide. He said he was drinking with his friends when they got drunk one of his friends stabbed him with a kitchen knife. There he sat like he was not stabbed. Maybe the what he drunk act like an anesthesia. The nurse stood up slowly and walked to the director's office which is just in front of the reception. After a few minutes she came out and said to the guy, "Im really sorry, there's no one to help you here. It would be better if take yourself to the district hospital. It's just a tricycle away."What!!! Can you guys believe it? A man with his intestines coming out from the side of his belly, went to a hospital, told the staffs that his wife is coming and his wife is going to pay fir the bill, but still the hospital refused to admit this guy! They told him to go to another hospital like their telling a patient with a slight fever. They didn't even applied first-aid to this guy's wound. They let him walk out of the hospital with his hand pressing his wounds. After that, I changed my mind. I told my gf I won't need anything those unprofessional, money-centered staffs of that hospital.
6 responses

• Murfreesboro, Tennessee
29 Jun 07
Wow, I didn't think that hospitals could turn people away in that kind of condition. Where I live even if you can't pay your bill or have debt with the hospital already, if you go to the emergency room they will treat you. I've had to do this before, go to the emergency room with an illness even when I owed money already, and I've never had a problem with it, you just can't schedule regular doctor's appointments if you haven't paid. I can't imagine just leaving someone to die like that, without even trying to do something to help, no matter what the situation.

• Philippines
29 Jun 07
Well, believe it or not, that's a true story.

• India
29 Jun 07
Doctor's Professions is the most noble profession and Doctors are placed next to God, because they are the one who can save a life. But the sorrowful situation is that, many Doctors consider their profession as just a Money Making machine only and dont do that for noble cause. Scenarios like you have said, is so bad and is happening in many hospitals. The condition is worse, in some Government Hospitals too. I think, Government should be more strict with the Hospital Policies , so that no one get affected with such conditions hereafter.

• United States
29 Jun 07
After i read your story i was shocked and believe me my brain seems stop functioning for a second! What a joke! What kind of human being they are...how can they not showing a tiny compassion to a person that is going to die soon at any time due to his serious injury....Oh my god! I feel so sorry for the patient and no body deserve for that kind of treatment which is rude and cruel. I don't know how this people feel about them self who treated others so badly .I do not know if god will forgive this nasty behavior of a human being. Although i have never heard such thing in united state but i can deeply feel for the victim.I am so sorry ,i get so angry and sad for what was happened in your place...... It doesn't matter where we live and who we are every body suppose to be treated equally. I am so sad,,,sad,,sad............and i am tears ....

• Philippines
30 Jun 07
I forgot to mention what happened next. Here in my country there are lot of tricycles that are used like taxis. They pick up passengers and take them to where they're going. These tricycle drivers usually have not even graduated high school class. Most of them stopped studying cause of lack of financial support. So here's what happened next, there was this tricycle driver who escorted his passenger to the hospital. While he was waiting for his passenger he saw the stabbed guy and he, without hesitation, offered to accompany the guy to another hospital. The driver just told his passenger to find another ride back home. Imagine that! Clearly, attitudes like these are not always learned from school. Nurses and doctors vs a tricycle driver.. degree holders vs a high school undergrad.. What a shame!

• Maribor, Slovenia
30 Jun 07
Wow! That is incredible. Here in the Uk we complain about the service we get in hospitals and doctors surgeries but when it comes to emergency help NOBODY is turned away. It makes me realise how lucky we are here.

• Philippines
30 Jun 07
My, that's really depressing. I mean, are hospitals not covered by a policy or a law on saving lives first before asking for down payments? If I were the one, I'd write about it in the local papers to ignite an investigation on the matter. These hospital should not get away with it, and should be penalized for not doing their duty to save lives. I can't imagine them doing it, but I do believe these are happening everywhere. It would take a courageous soul to expose this malpractice in order to prevent these unfortunate incidents from happening...