Outrageous

United States
October 24, 2006 6:40pm CST
What is the most outrageous thing you've ever done in your life? It could be anything, something totally against what you would do........When I was 19 I walked out topless at night on our front porch as a dare....
4 responses

• United States
13 Nov 06

hmmmm no one knows but when we moved to South Carolina was so much summer rain on and off it just amazed me because well I was from Cali and it just didn't rain like that...I use to walk in...but one day was home alone and ummmm took all my clothes off and stood on the back porch naked...thank god we lived in the country.. What can I say I wanted to do it at least once.

• United States
13 Nov 06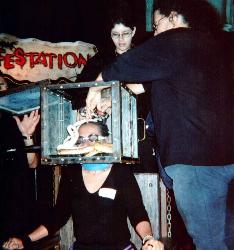 hahahahahahahaha Awsome question!!!!I once went and did this Halloween Fear show. I was a person that volunteered to spin the wheel and have whatever it stopped the wheel stopped on, dumbed on my head in a glass box. I had to sit there for 3 minutes!!!! I am very very glad I did not get the scorpians! Snakes were nothing compared to those. To top it off, they tell you to scream. Because they are recording it and the host tells you that you have to scream. If you do not, you did not pass the fear test. Screaming was a testy thing to do. Each time I screamed on being told, the snakes squeezed. I am sure I scared them. Glad they didn't bite!!!!!


• United States
13 Nov 06
I think I would've fainted, man that is ballsy......

• United States
13 Nov 06
Thank you. It was amazing! I am glad I did it!


• United States
13 Nov 06
I guess I would say mine would be either dating a guy who was 29 when I was 19, or sleeping with an engaged man.