Professional Pictures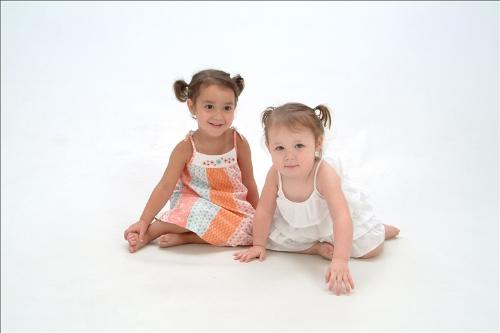 United States
June 29, 2007 10:01pm CST
I took my daughter to have her pictures made with her cousin today. It has been a while since I've had her pictures done by a professional and man is it getting tough to get her to hold still and smile. Last year when we had their pictures made together my daughter was the one who took really good pictures and smiled the whole time while her cousin wanted to run around. This year the roles were reversed. All my daughter wanted to do was play with the toys and go see what was going on in the studio next to us. At least we got some good shots. And next month we're having a photographer come to our house and take professional family photos. I can't wait to do that. We haven't had any family photos made professionally yet. I have attached one of the pictures that was made today. How often do you have professional photos made?
6 responses

• United States
30 Jun 07
Oh both girls are just adorable!! I think the picture came out really nice. When my kids were little, we use to take them once a year to get their photos done. We usually went to Sears or another place like that. As they got older, we didn't get them taken as often because we got their school pictures every year. Right now it's been about 4 years since we've had a professional family photo taken. I guess it's time we should do it again.

• Philippines
30 Jun 07
my daughter have not been taken shot by a professional photogapher, i plan to, when she's old enough, she's only 18 mos. i have lots of picture of her though, taken by me in my cellfone, or in digicam. she's like a pro, when i say smile she do so. its really enjoyable taking my daughters pictures, but you know its a expensive hobby, computer ink and photo paper is not cheap here.

• United States
30 Jun 07
The girls are adorable. I remember taking my kids to the photographer at that age. It was impossible to get them to sit still for their pictures. It seemed to take forever to get a decent shot. We always got one eventually though. I usually did one child at a time though, and that was hard enough.

• United States
30 Jun 07
I have had alot of professional pitures done of my grandaughter and kids also but any more I think ours are turning out better than theirs and I choose what sizes I want

• United States
30 Jun 07
I have had two professional photos done for my two year old son - one at one and one at two. He has also had professional photos done at daycare twice.

• United States
9 Jul 07
That's good you're getting some good pictures of your daughter. these days you can easily get copies on discs and store them online at places like Snapfish. I went and had professional photographs taken a few times when my kids were very small, and then I got too busy to take them. I was stuck out in the country with no car, so the only pictures I have are the ones someone took at a birthday party, or if I had film I tried to take pics with an old camera. The few pictures I have are among my most precious possessions.