What is your sunsign?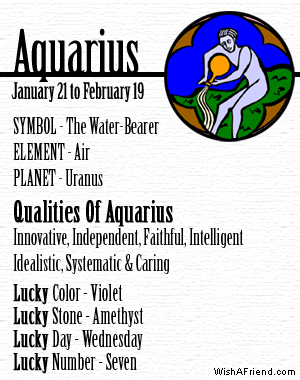 India
June 29, 2007 11:07pm CST
Do you believe in sunsigns? Do you have qualities that are because of your sunsign. I do have and I believe in sunsigns very much. I am an Aquarian, a water bearer. My qualities that my sign gave me are being intelligent, independant, idealistic, faithful, caring and innovative. These are the qualities of an aquarian and I feel I have all these qualities.
4 responses

• India
1 Jul 07
yeah,i do believe in sunsigns,n being an aquarian myself..i think i too have possess all the virtues listed by u...besides i m a very sociable person!!

• India
30 Jun 07
I am Capricorn .. About Capricorns -- We are motivated, determined and practical. We see no need to take unnecessary risks. Career is a major concern for us; advancement and recognition are alluring concepts. We are ambitious and strong, but also somewhat conservative.

• India
30 Jun 07

Hey, I am a cusp of capricorn and aquarian. So, I must have 50% of characteristics of a capri also. The qualities you mentioned above matches me also to some extent. I am ambitious and strong, but also somewhat conservative. Career is a goal for me too. Thanks for your response!


• India
30 Jun 07
Hi RAKHI as per my birthdate it is a VIRGO. I see it everyday. Most of the predictions and qualities do match, but some dont. Well afterall predictions are done by human beings and o human is perfect. hahaha. So dont feel low or bad if ur horoscopes dont match always. i am sure u have a good future. But u know that sadness has to be there in order to get happiness. We can only accept facts. Thats life my friend.