Dance with me??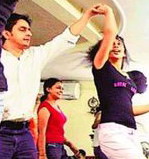 India
June 30, 2007 1:34am CST
Socialise as you shake aleg or two. Im here not talking about the parties but about Salsa Dance, As far i know, Salsa is a dancein which two people communicate through their body language. For that you have to interact with each other. We have these social gatherings in some club, where people can interact in more personal manner and eventually end up making a few good friends. So, what are you waiting for? Can you dance with me? what type of dance you know? Can you know some about Salsa dance? If you want to dance with me then most welcome
3 responses

• United States
30 Jun 07
Oh I love to dance and will dance most any kind of dance as long as someone is willing to teach me. I have never Salsa danced but have seen it many times and would love to learn if I could just find a man to dance with.

• United States
30 Jun 07
I look forward to learning - sorry I didn't get back sooner but am in the middle of 2 writing assignments so pop in to mylot from time to time just to catch a few discussions while taking a break or need to clear my head.

• Philippines
16 Aug 07
You may not know this but I really love dancing. I adore the ballroom dances and I am trying to learn. If you are just near me and if you could dance well, I would love to dance with you and maybe you could help me learn more about this dance. I also love the swing.

• Canada
27 Jul 07
LOL I don't know how to dance. I used to dance traditional dance when I was young, it was school extra curriculum. but now I forgot all about it and never learn other types of dance either.