"My boyfriend is a MAMA'S BOY!"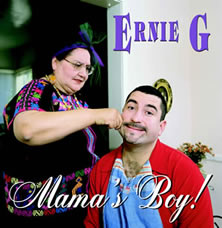 Philippines
June 30, 2007 2:59am CST
Actually not mine... but my friend's. She came to my place a week ago with her face so red with outrage. "My boyfriend is a mama's boy!" She said with a mixed feeling of disbelief and anger. She and her boyfriend were supposed to go out on a date when the boy texted her after 20 minutes of waiting that he couldn't come and maybe reset the date next saturday. That too will piss me off but the thing that my friend was bubbling about is that her boyfriend's reason that his mama didn't allow him to go out because it's not too safe to drive his car at night. Well his mom may have her reason but well the boy should have at least made a stand to see his girlfriend because they've agreed on that before and its his girlfriend - the one he said "i love you." My friend should break-up from his bf, what do you think? Can his bf's being mama's boy be treated or changed? What he did was not good and I don't think he knows how hard was that for my friend - should stella, my friend tell him that?
2 responses

• Singapore
5 Jul 07
I've heard many people say that a lot of men in Singapore are mama's boy. Last time, when I was studying, I had a boyfriend whom refused to admit he is a mama's boy but he is so much indeed a mama's boy. I feel that such people do not really have a stand of their own. But of course sometimes, mama's words is good. SO at the end of the day, everything has its pros and cons and anything that is too much is bad. I don't think you should try to change a man. It should be compromised. If you try to change him, you are in for a big shock because I feel, at the end of the day, when you love someone, you should accept him for who he is and not who he is not.

• United States
30 Jun 07
i'm sorry, but as a mother, i find this quite sensible UNLESS the young man is 18. if he's under 18, then if he's still living at home he needs to abide by the rules. and if his mother doesn't want him splattered all over the roadway, then yeah, i gotta say, keep your butt at home or get the car fixed so it IS safe. he's NOT a mama's boy because he's responsible enough to obey the rules and see the logic in not taking a car out that is dangerous to drive at night. stella should be thankful he cares enough about her not to take HER out in a car that isn't safe. you ever think about that? they could BOTH be splattered on the road if he had gone ahead and gone out on his little date with her. if i was stella, i'd give him a kiss and tell him what a responsible decent human being he is and thank you for caring enough to not want to put me in a dangerous situation. sheese.


• United States
30 Jun 07
oh ouch... he's 26??? ok. might have to rethink this a bit 'eh? now, if it's mom's car, ok. i can see it. she would definitely have a right to say who drives it and when. but him being 26 years old, whether or not he still lives at home or not (my son is still living at home, now with his dad and he's 26, but he's definitely most assuredly not a mama's or daddy's boy... he's doing it cuz he's smart and it's cheap!)...he should take the initiative and get that car fixed so it's not 'dangerous'. if it's HIS car then yes by darn he should be able to do what he wants when he wants in HIS car. i know, if he's still living under mom's roof, she can call the shots on most everything and that sucks. i wasn't that way when MY son lived at home, he was his own man and i respected that, but then again, he always respected me in return. but i think your friend should give the guy a chance... just in case there are circumstances she's not aware of... issues... etc... before she throws in the towel. unless like i said, it's HIS car. then you might have reason to wonder about this fellow! :-D