Do You Plan Your Day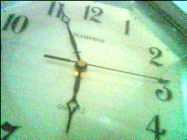 Pakistan
June 30, 2007 7:59am CST
I never do!i wonder as the lifestyles have gone so objective oriented, the human science have developed a lot, the result should be more a more organised and disciplined life! So lets see does it really work or not.. lets how many of us plan and schedule all the activgities before starting the day! Do you plan yours?
2 responses

• Pakistan
30 Jun 07
Yes i do plan my day because planning the day can make the things easy for you and you have the clearity and peace of mind that you have to do this at this time so no hustle and bustle :) just timly scheduled things.

• Indonesia
2 Jul 07
I do plan to do things every time and every day but i always ruin them cause when the the time comes i do nothing. So i will just to let the time go and do whatever i want.