Day at the Beach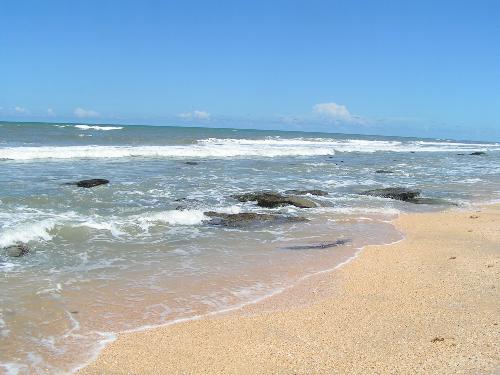 United States
7 responses

• Malaysia
1 Jul 07
you're so lucky! i don't live near to the beach. i love going to the beach though!! the last time i went to the beach was a few months ago, and that was on a business trip so i didn't get to spend much time at the beach huhu. thanks for sharing the beautiful picture! ^_^

• United States
1 Jul 07
I got some very nice pics. I'm going to put them on shareapic soon. I'll put the link on my profile when I get them on.

• United States
1 Jul 07
Lovely pic, and I am glad that you enjoyed yourself so much. Have a great day and many more.

• United States
1 Jul 07
Thanks. It's always good to get out. I seldom have time to be by myself so I do enjoy it when I can.

• United States
1 Jul 07
Oh that is such a beautiful picture...how I wish I could have joined you...LOL...I wouldn't mind a nice dip --how was the water..refreshing?? It's so hot here, I had to keep splashing water on my face to cool down--alas no AC

• United States
1 Jul 07
It was really hot here too, in the high 80's. The water was nice. I only waded, though. You don't have AC? Ouch!

• United States
1 Jul 07
P.S. Come on down. I'll take you to the beach.

• United States
1 Jul 07
Nope no AC...just fans to circulate the hot air...I keep adding a lot of ice cubes into the water for the cats...they get more than I do!!



• United States
1 Jul 07
Wish you could! I'd love to have my friends on myLot come to the beach with me!

• United States
3 Jul 07
You are assuming I have a lot of friends who would come! lol

• China
4 Jul 07
Hey, I thought everyone who lives in Florida would go to the beach everyday! Hahaha! xD Well, just kidding, but the idea we get on telvision shows is that it's always hot in there and everyone wear those colorful summer clothes. :) I live in Brazil, one block away from the beach. And, well, I almost never go there. If I go once a month it's too much. Well, glad to see you enjoyed it! Cheers, my friend!

• United States
4 Jul 07
That's the tourists you see at the beach in the tv shows! Like you, I live close to the beach, but hardly ever go. I wonder why that is? We do wear colorful clothes. In northern Florida it gets cold in the winter. By cold, I mean down to freezing a few times.

• United States
1 Jul 07
Oh, that pic looks SO nice! I could really use a day at the beach, but we live too far away. We could get to Lake Erie in an hour, but it's just not the same as the ocean. You are very lucky to be so close to the best thing on earth!

• United States
4 Jul 07
I know I am very blessed to live so close. The fact that I don't very often is a crime, because I do enjoy it when I do. Thanks for your reply.

• United States
1 Jul 07
We all at some time, need to just "get away" from life in a sense. It's comforting at times to be by yourself. It's great to be on the beach listening to the calm and soothing sounds of water crashing against the shore. So when you you do you shell hunt? Do you hunt for driftwood at all? Amazing some of the things you can find when strolling along the beaches. Have a great day/evening. HAPPY POSTINGS FROM GRANDPA BOB !!~

• United States
1 Jul 07
We don't have any good shell or driftwood beaches near here. The best driftwood I found was up on the north end of Jekyl Island in southern Ga. The best shells are at Sanibel Island on the gulf side of south Florida. I love the beach, but hardly ever get over there for some reason!