Antivirus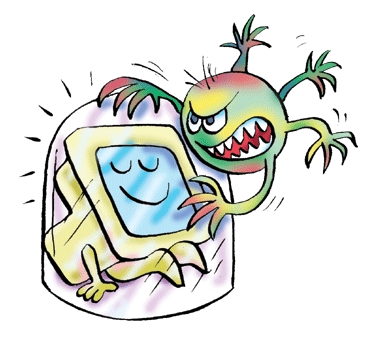 Italy
6 responses

• United States
22 Jul 07
Not only do you need antivirus, you need antispyware and firewall as well. Even legitimate webpages all over the Internet are being infected with iFrame toolkits that will try to load mutated malware on your computer as soon as you visit one, and hundreds of new Trojan samples are coming out daily. If you don't have security software on your computer, and you have Windows 2000, XP, or Vista, there is an all-in-one suite available free for all from AOL: McAfee Security Center. Get it here: http://safety.aol.com/isc/index.adp? Hope this helps!

• United States
22 Jul 07
You're right, but what if 60% is being taken up by spyware and Trojans; reporting your browsing habits, e-mail address, contacts, and other sensitive information to a remote hacker? DEFINITELY not good. :S There are some security products that are lighter on resources than others, but you ought to make sure you're not sacrificing security for speed. Unprotected Windows PCs are compromised within an average of 39 seconds upon connecting to the Internet, sometimes when they're not even browsing. According to McAfee's statistics, about 80% of all computers scanned within the past month have infections of some kind. And that's pretty close to average with any vendor, not just McAfee. Most of it is just plain spyware, but a lot of it is also backdoor Trojans, which make up some 60% of all badware in overall samples. Getting scared yet?

• Denmark
19 Jul 07
Use linux in stead of Microsoft Windows and forget all about computer viruses. I use Ubuntu linux. It's free and very user friendly - most programs work just like you are used to already.

• Finland
2 Jul 07
ofcourse, you need antivirus software. There is so much viruses and other trash nowadays in internet that its a must to have firewall and antivirus software. Now i tell you why: There is viruses called: Trojans, which you may get from program you think is safe. If you have antivirus software it will tell you that trojan is trying to connect, so you can just delete it. But if you dont have antivirus software, it will stay in your computer and the one giving that program to you, will see all your passwords including myLot password and PayPal passwords etc. You could lose lot of money. There is also other trash in internet you need to secure.. So if you are too lazy to just download some decent antivirus program to secure your things in your computer, then there is something wrong with you :S

• United States
1 Jul 07
I think it is important to have antivirus software. I am always very careful about the sites that I view, and so is everyone who uses my computer. But we still managed to get a virus on my computer, somehow. Between having antivirus software and switching to Firefox, I have gotten rid of the problem, but it was really a pain for a while!

• India
1 Jul 07
it is similar to asking to we need police or can we just go to crime-free place. well just like it is very difficult to find a crime-free place, it is also very difficult to know which site is harmful. nowadays virus-writers are becoming smarter. so you never know which site is attacking you and when. if you involve in social groups on sites, then remember these sites are quite vulnerable because these being social sites involve less tech people and therefore are best sources of potential targets. i have seen problems with orkut and hi5. these sites are not designed to be safe but to be easy to use and the technical vulnerabilities are easy to exploit. you should always better use an anti-virus and if possible use an anti-spyware as well coz these days spyware attacks are more common than virus attacks. you may look up my blog for reviews on some anti-spyware products at the end-user level.

•
1 Jul 07
u should get anti virus software cas some websites might b legit but they rlly arent...hard 2 tell these days