trying to give a stray cat a good home

United States
July 3, 2007 8:49am CST
This morning, I saw a stray cat that I had seen about two-three weeks ago, wandering from my backyard to my neighbors' yard next door. From his or her emaciated appearance, I know that he/she probably hasn't eaten in a while. I want to help this cat and already put out a can of cat food and some water, hoping that he/she will find it and eat. I'm very patient and am willing to bring this baby into my home in the near future. Hopefully, this strategy will be as helpful to me as it was for my sister. She began feeding a stray cat that wandered periodically on her lawn and after a few months, was able to gain the cat's trust and bring her in the house. Today, the cat has an excellent home and a name, Moochie. Moochie is also very friendly and loves to be petted and gets along with my sister's two dogs, Chloe and Aries.
9 responses

•
3 Jul 07
If you can give the cat a home that's good, if not then alert your local animal shelter and perhaps they will come and collect it. Remember cats are big responsibility and live for years, I have to move and it's hard to find landlords who will accept cats.

• United States
3 Jul 07
I'll see if the cat responds by eating the food and drinking the water. Luckily, I have my own home and am able to accommodate another cat. If I can get this one, I will have four cats --- the unnamed stray, Mimi, Columbus and Waffles.

• Australia
4 Jul 07
i hope the cat finally trusts you enough to let you take it into your home. you will just need to make sure first that it doesn't belong to anyone else. whatever you do, please dont let an animal shelter take it, they will most likely put it to sleep

• United States
4 Jul 07
Oh, I would never do that! I took Mimi in because her owner originally was going to take her to a shelter. She's five years old and growls at strangers, including me (though not as much). A shelter would have definitely put her to sleep and her owner would never have seen her again.

•
4 Aug 07
Sorry I have only just caught up with this discussion, and I hope that, by now - your stray cat is getting closer to you. As you know from your sister's experiences, and my story of my own sweet Clarence, they can take a while to trust people again, but they can give you back the love you gave them, tenfold. Good luck!


• India
12 Jul 07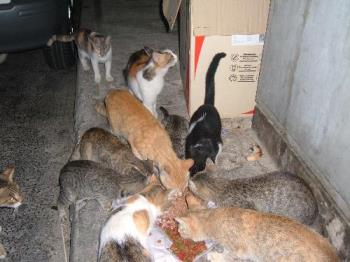 i really appreciate the care shown by you for the stray cat. i hope if each one of has that kind of courtesy towards stray animals, this world would be a better place for the animals and there would not be any stray animals. I once again congratulate you on the kind of gratitude shown by you towards the cat. The cat surely has a better place to stay in and a better companion in you.

• United States
11 Jul 07
I wish you good luck in catching the little sweetie. It's nice to hear that you're willing to give it a home. I hate seeing anything homeless, and hungry.

• Australia
4 Jul 07
aw i wish you all the luck with giving the cat a new home, lets hope the cat finds the food, some people find easy to give cats a new home than others as i guess depends on the area your living in.

• United States
3 Jul 07
It would be wonderful to give him a home, but be weary. You will certainly want to take it to the vet to have it checked for any sort of disease. And often these 'street' cats can have quite a temperment. Not always, of course. Just be careful is all I'm saying.

• Sweden
3 Jul 07
That is definitly the best way to try and gain a strays trust! My family has fed a number of stray cats in the past, and as long as you are patient it usually turns out fine. Since you have cats you probably already know this, but if the cat is very emaciated it might be a sign of worms. I suggest that you de-worm him/her as soon as you can. One of our old cats was just skin and bones when we took him in, but after a couple of weeks on medicine and healthy food he got all better. Infact, that cat lived to be 22 years old! Good luck!