SJP's Bitten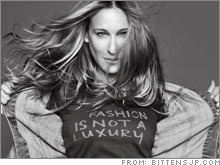 United States
July 3, 2007 6:55pm CST
So i love Sara Jessica Parker and so when i heard she was launching a clothing line and EVERYTHING was going to be under $20 bucks, i flipped. I love her. Thank you SJP cuz you understand people like me. She said " i wanted to create a line that people could shop and still have money to pay thier bills. LOL that's me cuz i will spend my rent money on a new out fit and pair of shoes. Anyway so i finally got a chance to go and check it out. I got a pair of jeans two shirts and a bathing suit for $34.00!! I know right? anyone else get a chance to check out BITTEN. What do you think?
4 responses

• Malaysia
5 Jul 07
everything for $34?u gotta be kidding!no kidding!i wish they have BITTEN here in Kuala Lumpur'!



• United States
4 Jul 07
I had just a few minutes to check it out, so haven't bought anything yet. I know the clothes are darling and cheap!! I love Steve & Barry's anyways and now with the addition of Bitten it is going to be a great shopping place.